Latest posts by Tractor Logic Team
(see all)
Evolution is imminent in every aspect of nature and humankind. From the Stone Age, wherein stones were used to pluck fruits and kill animals, mankind commenced using oxen to farm. Later animals were deemed slow and hectic, so they were replaced with advanced machinery types. 
Amongst these advanced types of machinery is the tractor, which was derived from motor and traction. Tractors are utilized for pulling very heavyweight loads as well as for agricultural purposes too at slow speeds.   
It is noteworthy that it is John Deere who pioneered the invention of tractors. He invented a novel self-cleaning type of the plow that was curated of steel from old saws to answer the plight of the Midwest farmers who plowed using cast-iron plows. Fast forward, modern families rely on heavy-duty types of tractors.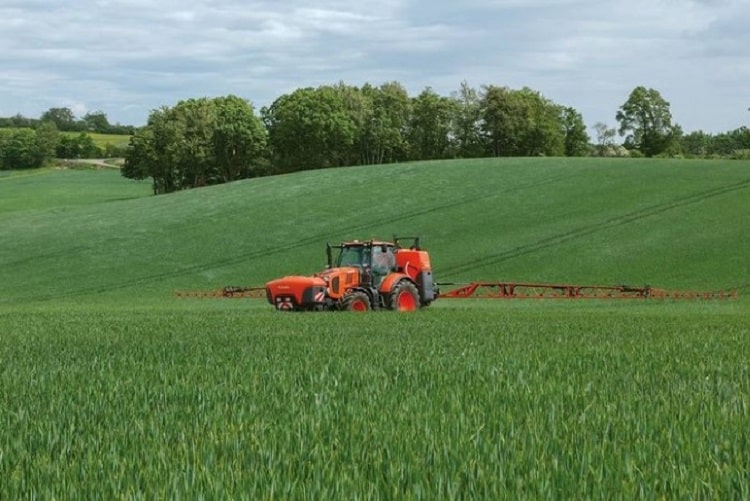 Currently, there are innovations on self-driving machines as well as other sophisticated features inclusive of telematics, crop sensors, camera surveillance, app management, and GPS. 
Undeniably, several agricultural tasks occur on a typical farm; therefore, each task needs specific machinery. Similarly, with the required need and task type to execute, there are various types of tractors that do various tasks.
That is why this article was curated to help you understand everything about different types of tractors with some tips and a review of the best tractors you can find in the market. Do read ahead to the end to get a comprehensive insight into the world of tractors. 
Why you should buy a tractor   
As earlier mentioned, tractors have versatile usage. Below are some of the reasons you need to purchase a tractor.   
Recreational purposes

Landscaping

Emergency transport

Land clearing

Brush Hogging

Cultivation

For Making firewood

Construction projects

Livestock feeding and caring

Snow removal 

Fence building

Trail maintenance

Harvesting
What to consider when purchasing a tractor
Tractors are machines that are complicated in their ways. With several moving parts, it could be a bit intimidating to consider what to buy when you can't typically figure everything out. That said, should you be tractor-hunting, then this comprehensive guide will come in handy. This buying guide will also clear out some parts about tractors. 
Transmission
Knowing the type of transmission you want is crucial when you want to purchase a tractor. Branson tractors provide two types of transmission; Shuttle Shift and Hydrostatic.
Hydrostatic tractors that are usually automatic permit you to keep a hand on the loader joystick and the other on its steering wheel whilst your feet do the reverse and controlling. Just like automatic cars, your engine gets to adapt with increased speed. 
On the other hand, Shuttle Shift which is usually standard permits you to select a gear and transmission range and then utilize the clutch for moving the shuttle lever to reverse or forward from neutral. This transmission type eases the work of maintaining a consistent speed.
Therefore the tractor you are looking for should offer either one of these types of transmission, depending on what you are comfortable with. 
Engine
An engine is like the nucleus of a tractor hence providing the necessary energy to execute the job at hand. The strength of an engine is usually measured in horsepower, so the higher the horsepower, the more there's high power.
If you do not know how to get a suitable engine for your tractor, you could use the help of a mechanic or salesman to make an engine that best suits you. 
Hitches
An attachment hitch helps your tractor to easily connect with any other equipment. Three-point hitches are inclusive of hydraulic lift, which is used for lowering and lifting attached equipment. Additionally, there are several specialized hitches meant for attachment, like the forklifts and front-end loaders.
PTO Shaft
The power takes off is situated at the tractor's rear. It transfers the mechanical power of an engine to equipment that doesn't possess a motor or engine at all. It is a crucial machine part that can be effectively utilized when implements get purchased in a good package deal.  
Hydraulics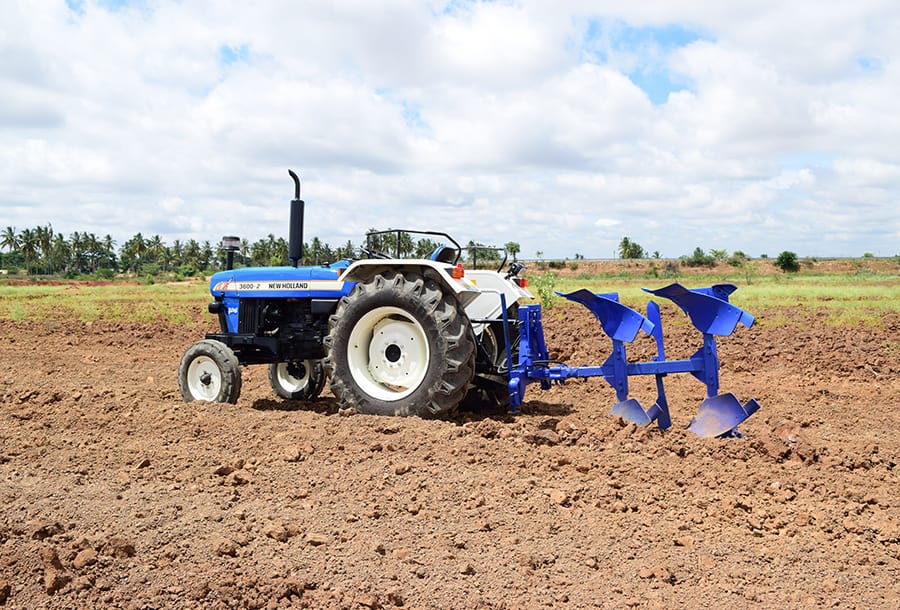 Hydraulic power is utilized for a plethora of reasons. It eases turning and can also lift powering implements and lifting attachments like the front end loaders and backhoes. 
Headlights
Working out in summer heat is very exhausting; thus, it is way better to do tractor tasks in the evening. Therefore when you are purchasing a well suitable tractor, ensure that its headlights are fully equipped and powerful and that they can shine paths well. 
Dealer Support
Inevitably routine service is crucial when purchasing heavy machinery. Ascertain that the tractor you are purchasing is from a reliable dealer who has their customer's interest best at heart. These dealers should also regularly keep stock updated.  
Tires
Tractors' tires need to offer heavy traction to enable you to work in various conditions. The best way you can ascertain that the tires you buy are well suited for anything can be done by filling a LiquiTube tire sealant.
Durability
It is imperative that all the things used for curating all the parts of the tractor need to be of high quality and durable too. This will help in serving you for many years without fail.
Types of Tractors 
Compact Tractors
These types of tractors are utilized in nut yards, fruit yards, and vineyards. Compact traitors are constructed such that a user sits comfortably while selecting hanging fruits or trimming trees simultaneously.
A huge advantage of compact tractors is the fact that they are adjustable regardless of the yard's space. Also, they are small in size and consume minimal fuel hence saving money for you.   
Utility Tractors
Utility tractors are the main types of tractors. They are mainly utilized for farming operations like plowing as well as pulling heavyweight implements. In case a farmer can't afford to purchase other machines for performing tasks, then a utility tractor will come in handy. T
hey typically range from about 45Hp – 140Hp. Their engines are a bit medium to low and can pull heavy farm implements. Also, these types of tractors can easily interpolate other equipment such as hay cutters, harvesters, tillers, threshers, et al. They usually possess diesel or gasoline engines. 
Row Crop Tractors
These types of tractors are utilized in farms where crops are planted row-wise. Row crop tractors can perform a plethora of required farming tasks inclusive of leveling, harrowing, plowing, weed control as well as pulling out seed drills.
Row crop tractors are inclusive of various advantages such as being user-friendly, effortless detaching and attaching attachments, sufficient row spacing, straightforward steering, amicable ground clearance, comfortable driving, and so much more benefits.    
Orchard type tractors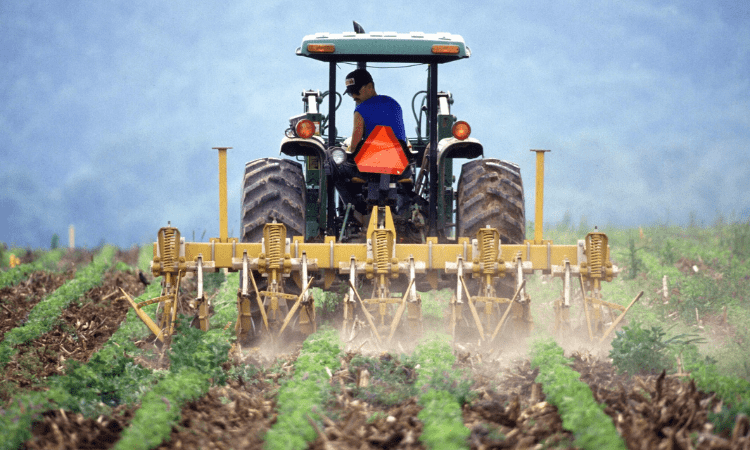 Apparently, these tractors are only meant for orchard usage. Orchard tractors are usually tall and high to enable the user to comfortably sit and pick fruits or even trim trees.
The tractor's outside is clear hence implying that you can easily get around and in the trees effortlessly. Also, these tractors can be utilized in a plethora of orchard types regardless of what's planted in them. 
Factually these tractors are personalized, that you can even customize the tires to accommodate your orchard. This is beneficial for farmers who have thorns etc., on their fruit trees. They are also very narrow and do not have protruding things from them. Also, they possess enclosed areas to help the driver or user to sit in as well as maneuver it. 
Implement carrier Tractors
You can use these tractors to mount and carry various implements. Thus the chassis frame that is located between the rear and front tires is extended. Implements that can be mounted are inclusive of seed drills, rotary sweepers, sprayers, loaders, drills, et al. Implement carrier tractors usually come in various designations and sizes. 
Garden Tractors
These types of tractors feature a 1hp -20hp engine power range and are normally small in size. Garden tractors are meant for cutting grass as well as making flower beds in your gardens.
Garden tractor wheels resemble that of a scooter, although they are much thicker. Currently, there are over 100 various garden tractors manufactured to suit farmers and gardeners alike.  
Industrial Tractors
Moving on swiftly are industrial tractors. Like its suggestive name, these tractors are well suited for industrial purposes rather than for agricultural usage.
In the past, these tractors were referred to as tuggers. Industrial tractors pull heavyweight loads then fit cranes to lift the loads easily. Unlike agriculture tractors, industrial tractors do not possess three-point hitches. Instead, they do have drawbars and also come in different HP strength models.   
Earth Moving Tractors
They are found in dam works, quarries, as well as construction sites. Earthmoving tractors are powerful and very heavy and come in track and tire types, making them lifesavers in these areas. They can move and relocate things like debris, rocks, lumber, mud, dust e al. typically earth moving tractors come in three types which include;  
Bulldozer
Commonly referred to as great well crawlers, bulldozers possess huge plates in the front part, which push dirt, soil and can even clear out property situated in various terrains. They possess complete tracks for maintaining balance when executing operations.  
Backhoe loaders  
Backhoe loaders, on the other hand, are meant for various construction jobs like breaking asphalt and digging holes. They consist of buckets for digging as well as adjustable shovels to suit your needs.  
Excavators
Excavators are utilized for demolishing and digging as well as lifting heavyweight implements. They have long bucket arms that are attached to a rotating cab. The seats are usually elevated to help drivers get a good view of all they want to see while working in them. 
Autonomous Tractors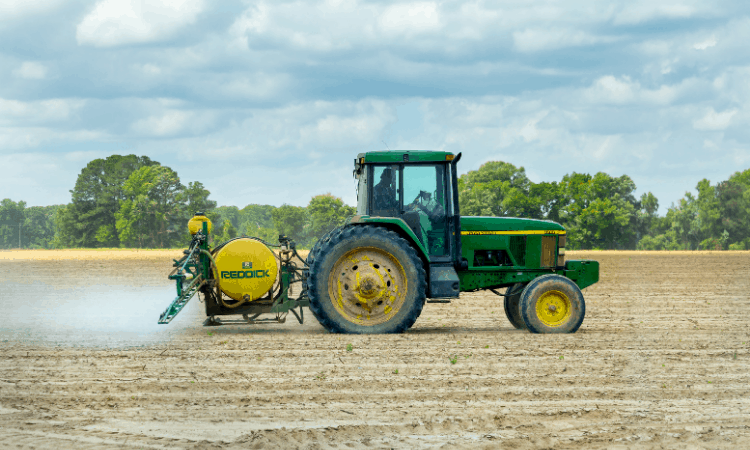 These are novel tractors that also go by the names electric or driverless tractors and are operated using AI. Autonomous tractors could be the future of the industry because they use satellite, drone technology, GPS, as well as computers.
They mitigate the need for human labor while executing operations. One single operator can control up to a dozen tractors from one specific location. The development of autonomous tractors has thrilled farming communities for several years, and this thrill won't subside soon. 
Two-wheel tractors
These types of tractors are smaller and lightweight. They are used for plowing, tilling, as well as pulling minute implements, inclusive of trailers, seeding equipment, and harvesters.
Two-wheel tractors can be called walk-behind, single axle, or walking tractors and are usually utilized in small-scale gardens and farms. Small gasoline engines power the two-wheel tractors while operators typically walk behind when using the machine. 
Rotary tillers
Rotary tillers are also amongst the walking types that are normally used in small fields and can work at various height levels that ordinary equipment can effectively work. Their compact size enables them to effortlessly get into minute spaces as well as over hills.
Blades can be fit to the tillers to help in preparing seedbeds when you want to pulverize soil content easily and quickly in a field. Rotary tillers are motorized cultivators which function by rotating blades to effectively work the dirt. 
They can take hard soil and chunk them into cold-free and fine soil beds. Alternatively, you can have its skid shoes adjusted to change its working depth.  When you are done using the rotary tiller for tilling the soil, you are now ready to plant the seeds you want. That's how effective and cool the rotary tiller is. 
Military Tractors
Lastly, we have the military tractors, which are used for demolition, construction, and non-permanent road building, amongst other high-risk area projects.
Their name is since they were used for moving heavyweight military implements such as guns in the 1970s. Military tractors are manufactured in a way that they can travel varying and hard terrain types. Its designation resembles that of the civilian industrial tractor. 
Also, military tractors are curated with undercarriages as well as tractor frames to tolerate explosive devices and landmines.
Sometimes they're designated with either semi amphibious or amphibious capabilities and can travel on semi-trucks, wheels, and even tracks. You can never go wrong with military tractors in projects that are based in high-risk places. 
Top 5 Best Powerful Tractors Review
There are several tractor types like bulldozers, crawlers, agricultural tractors, et al., as earlier discussed. All these have various applications too. Apart from being used in the above-discussed areas, some tractors are also used in airports, construction sites, horticulture, municipal operations as well as forestry.
In agriculture, essentially, tractors are designated to drive and even pull other agricultural pieces of machinery with a service life of up to 10000 hours straight.
Today there are powerful, versatile tractors that can be found in the market that are highly ranked by experts regarding their hp, durability, effectiveness, and so much more factors. That said, here are our top five best tractors from all types of tractors that were mentioned earlier. 
JOHN DEERE 9620 RX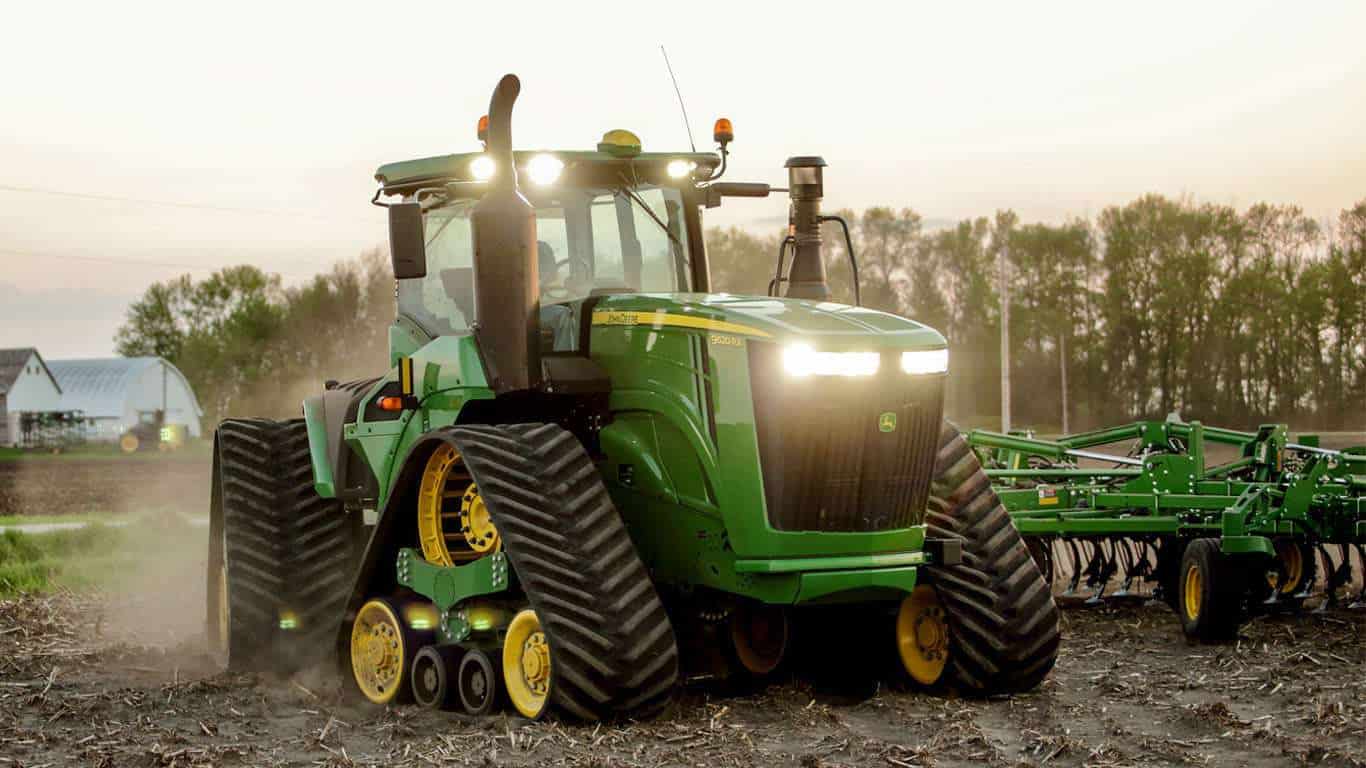 Starting off the list is the famous and popular yet so powerful 9620X John Deere. This tractor has an enormous 14.9-liter six-cylinder Cummins QSX15 engine that's located under its bonnet.
This engine is unanimously rated 620hp and puts out a full boost of 670hp whooping courtesy of the geometry turbo that is variable. Impeccably, its engine meets the emission standard of Tier 4 final via using the exhaust gas circulation, AdBlue as well as diesel particulate filter. This is a whooping performance. 
On the other hand, the tank capacity is at a whopping 1500litres with cool filling points on both sides that ease life and task for the user. Also, the AdBlue tank has a holding capacity of 83 liters which keeps the engine always clean. 
It has a huge hydraulic flow rate because the machinery is optioned with a pump that is of high capacity, which delivers a whopping output of about 435 liters a minute. Featuring five standardized remote sets that can reach up to even eight, they help to deliver 160 liters a minute from every set.
Also, its three-point linkages on its rear utilize a speedy heavyweight frame with CAT 4 pins. Also, it possesses a lifting capacity of up to 9 tons. However, it is fitted with an option PTO which is a bit unusual. With 335hp power output and 1000rpm speed, this tractor is powerful, to say the least.
The commanding view offers comfortable environs for an operator. Besides, it possesses great visibility and is exceptionally quiet. A crucial point of this 920x Deere tractor is that it utilizes four-post cab suspensions on the shock absorbers that are spring-loaded.
This intentionally offers an operator a good smooth ride which seems to be a problem in other tractors. There is no way you can go wrong with this tractor because it is versatile, powerful and eases the workload for the user. 
Check out our list of best John Deere tractor models.
Key features
Tracks; Four 30-inch Camoplast Durabuilt Tracks

Weight;28,000kg

Turning radius;6.4m

PTO; Single speed 1000 rpm

Fuel tank capacity 1514L

Transmission E18 full powershift 40km/hr

Hydraulic output;435L/min, five sets of remotes

Max engine power 670hp

Rear lift capacity 9000kg

Wheelbase;4154mm

Engine Cummins QSX15 14.9L 6-cylinder
Pros
It is very tall and has a long belt that aids in dissipating better heat 

The controls are easy to understand and use

Very powerful and works for long

Its undercarriage possesses two huge mid rollers that aid in preventing shock and reducing dissipation

Curated high-quality materials.
Cons
It is very expensive

It doesn't possess sufficient drawbar pull compared to a similar dual-wheel version  

Doesn't have different space options
Steiger 620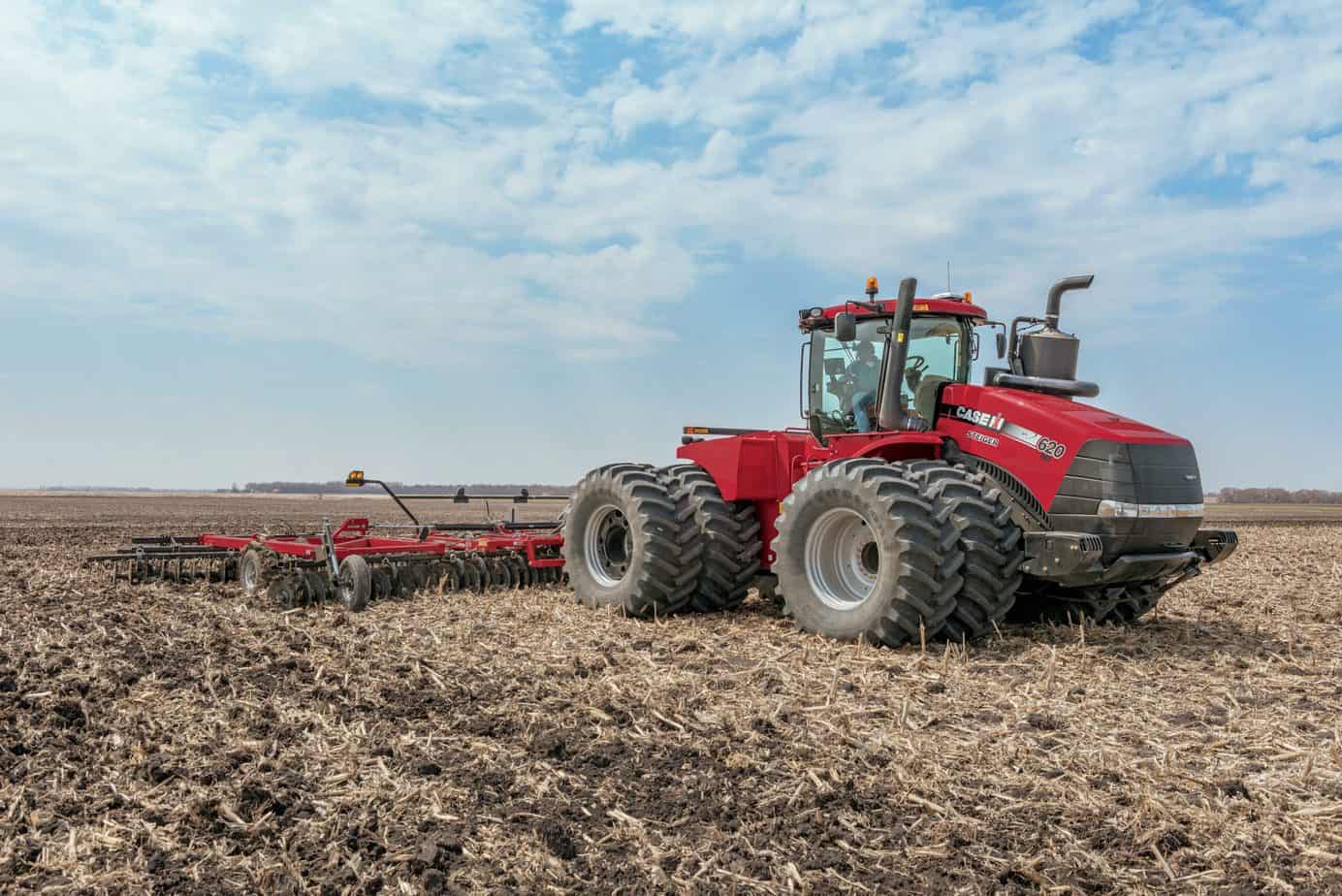 Case IH Steiger 620 is undeniably a breathtaking tractor that has proved time and again its power and efficiency when working in the fields. With an impressive 680 horsepower as well as a 12l tier 4B final engine, this tractor can easily handle huge implements as well as tough conditions.
As the manufacturers aver, only top-notch case, IH parts, and attachments were used to curate the Steiger 620. This helps the designated machine to perform well and as expected by an operator.
When purchasing the tractor, you will find all the needed implements and pieces of equipment such as safety tools, fluids, filters, et al. in their store, so you don't need to look for them in other stores. They are also quite affordable implements.  
The tractor is amongst the best-selling tractors in the last decade and delivers successfully in its operation. The Steiger delivers high pulling power for vast working widths whilst implementing ground conserving and efficient drilling tillage and concepts.
Factually, the series has been setting benchmarks for the industry in regards to fuel efficiency, ground protection, traction, as well as lugging power. This is highly appreciated by road operators and farmers worldwide precisely for its high driving level comfort, reliability, as well as productivity. 
Featuring efficient power, the stage of exhaust treatment is performed out of the engine by another SCR system. With lower fuel consumption, you couldn't expect such high power and reliable performances that can be achieved easily.
Also, there's a high-intensity exclusive lightning package that has adjustable HID floodlights. This unequivocally enhances night vision with 360 full-field illumination degrees. 
Key features
Engine Rated Horsepower: 620

PTO Power: 473

Engine: 12.9 L Tier 4 B/Final

Maximum Engine Horsepower: 682
Pros
Offers a sweet comfortable operating environ

Speedy on road

The top-notch and mighty rear end

Possesses novel engine technologies that possess patented exhaust cleansing systems

Reliable

Efficient
Cons
There was a report of the in-cab screens sometimes failing 

Should the pipe dare fail, it can dump over 200l of pricey hydraulic oil. 
Mahindra Yuvraj 215 NXT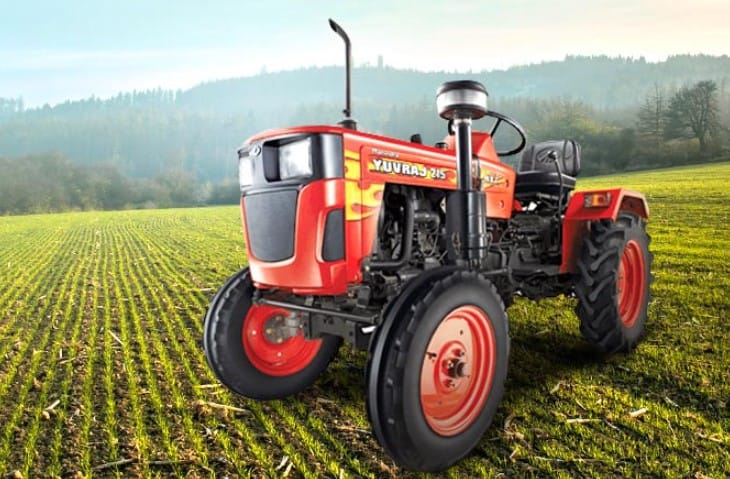 Next on the list is the Mahindra Yuvraj 215 NXT which is a great compact tractor that possesses a single cylinder as well as an 864cc engine that can output power of up to 15hp with absolute performance and solid styling.
Ease of operations, as well as its fuel-efficient engine, renders the Mahindra Yuvraj NXT a good tractor for minute intercultural operations and small landholders within fields of crops such as sugarcane, maize, soybean, cotton et al., and even orchards. 
The Mahindra Yuvraj 215 is equipped with mesh transmission that slides. With three reverse and six forward gears options, the Yuvraj is capable of achieving a forward speed of up to 25.62kmph while the reverse speed goes up to 5.51kmph.
The machine is equipped with a Single Friction Plate type of clutch that minimizes operating complexity and even maintenance. The wet air filter is given to basically supply clean air to the engine to have efficient performance. It could be that the Mahindra Yuvraj 215 NXT might be a good competitor to the mini tractor segments.  
Also, the Mahindra Yuvraj 215 NXT features a 778kg lifting capacity. For adjustable rear tracks and smooth operations comes with a lifting capacity of 778 kg. For smooth operations, the adjustable rear track width can be termed as a useful and magnificent feature.
Also, the Mahindra Yuvraj 215 NXT features a six-spline type Power Take-Off with RPM of 540 as well as 12hp power output. Mahindra Yuvraj 215 NXT can be utilized extensively for several applications by farmers for tasks like intercultural operations, threshing, sowing, rotavators.
Check out our list of best Mahindra tractor models.
Key Features
Lift Capacity: 

778 kg

Brakes: 

Dry Disc Brakes

PTO HP:

 12.0 HP

Forward Gears: 

6

Reverse Gears : 

3

Steering Type: 

Mechanical Steering

Brakes: 

Dry Disc Brakes
Pros
It is a nice-looking exquisite small tractor. 

It has convenience and comfort features

It is also equipped with mechanical steering

Comfortable driving

Possesses weight adjustments, silencer as well as rear track, making it amongst the best tractors in this segment. 

Automatic depth-based precision hydraulics for all manual interventions

You will enjoy using the tractor.
Cons
Expensive

It might take time to ship 
FENDT 720 S4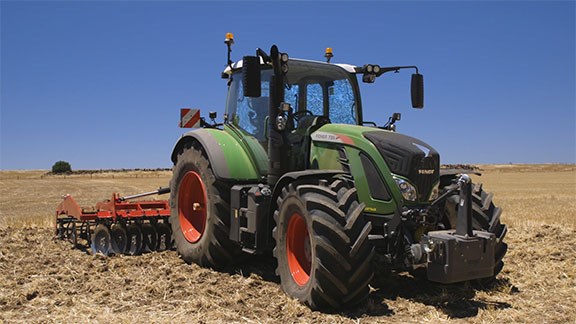 If you are a person who fancies highly spec'd tractors, then the FENDT 720 is a great hit for you. With several novel technologies, it is surely deserving of a position amongst the best powerful tractors in the world. How everything seamlessly works and is integrated deserves a standing ovation. It is also affordable considering the features that are found in it.
The ISOBUS integrations levels, as well as high-end commodities with impressive brands, help you possess high value yet fewer machines to have productivity maximized. This machine is also durable and can stay a lifetime, serving you for whatever purpose you desire to do with it. 
The VarioDoc, as well as VarioDoc pro, can be termed as a data-sharing version of Fendt. This aids in allowing data like application maps, field boundaries as well guidance lines to be easily shared between a guidance system via a standard or integrated USB stick.
 Key features
The novel ZF front axle provides impressive comfort with an axle that helps in self-leveling. 

14 tonnes of gross weight

Footed with 600/65r28 staunch-looking tires. 

Allows higher payload

Its dual-circuit air breaking systematic pulls its stead up

 Exhaust breaks help in extending the lifetime of the primary brakes

Has extra attachments to it
Pros
The capability of changing the control layout to suit the needs of an individual operator

Advanced guidance 

Excellent visibility

High integration levels of the tractor components

User-friendly transmission

Well laid out bright and light cab

Possesses large mirrors

Pressure controlled base front linkage
Cons
It doesn't possess reversible fan options

No proportional control when the spool is timed. 
Valtra T234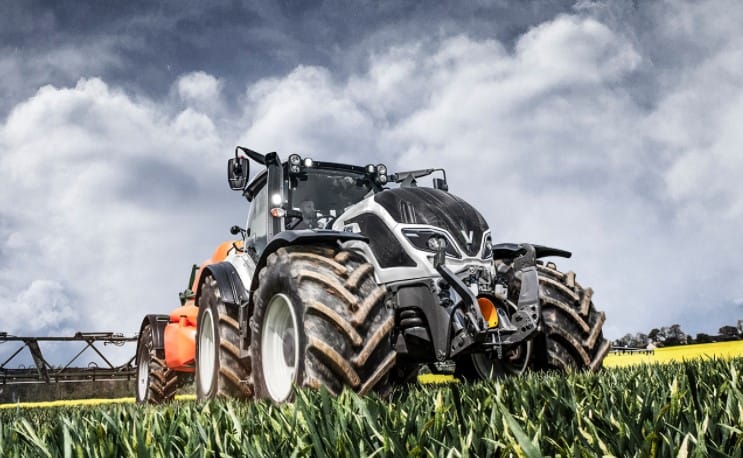 Should you fancy a simpler version of a tractor, then the Valtra T234 is a great option for you. This machine provides a powershift transmission that can be executed in five steps and has three various armrest layouts to suit every budget. These armrest layouts are the Versu, active, and Hitech. 
A key feature of its novel cabin is the reverse steering ability. It's more of a fiddle with a button underneath the armrest. However, after you know how it goes about, you can easily spin the seat to 180 degrees to operate exclusively in reverse. If you have long legs, then you need to be aware. 
With a swipe or a tap, everything is accessible. Its display and visual is stunning and fantastic. What's more, Valtra packed a lot of capabilities into its smart touch screen to mitigate any need for additional monitors that can be interpolated in other tractors. The second screen will be available soonest as the manufacturers aver.
Features
It has high-capacity load-sensing hydraulics with 200 l/min hydraulic pumps.

reverse steering ability

the Valtra SmartTouch armrest is cool

has a 7.4-liter, six-cylinder AGCO Power engine
Pros
Elegant designations

A plethora of model options

Comfortable ride

Spacious cabin

Possesses smart touch armrest
Cons
Doesn't have a mighty aircon

It is a bit hard to spin the reverse steering into place
FAQs
Question: What does a four-wheel tractor mean? 
Answer: A 4wd possesses tires of four similar ranges and sizes from about 25- 450kw. Regardless of their sizes, these tractors need to be well ballasted. 
Question: Why are semi-trucks also referred to as tractors?
Answer: They are called so because it is an appropriate name for the power unit. This entire rig is also known as a tractor-trailer unit. Tractor units are characteristically heavyweight towing engines that offer motive power meant for hauling trailered or towed loads. 
Question: What engine type is utilized in tractors
Answer: Internal-combustion engines usually are used in tractors. USSR produced tractors that possess four-stroke diesel engines. The engine of a tractor is highly dependent on the tractor's class. Usually, they range from 14 to 368kilowats at up to 2500rpm. 
Final say
The best tractor, in our opinion, is the Mahindra Yuvraj which is an exceptional tractor courtesy of its interpolated technologies and the interesting attachments found in it.
That said, congratulations for having reached so far. We do hope you enjoyed the review and guide herein. Remember, the review of tractors is inexhaustible courtesy of the several tractors produced by the never-tired brands.  Do share with fellow tractor lovers, till then do have a nice time.