Latest posts by Tractor Logic Team
(see all)
Are you looking for the best new Holland tractors models? Well, you are in the right place.  You must be curious to know the best new Holland tractor models, and most probably, that's why you are here.
Tractors are equipment we can't afford to live without as far farm and road operations are concerned. They are part of our life to us farmers and gardens. However, these tractors are a source of joy when we have the right tractors for the correct duty. 
It's not surprising to have a tractor that doesn't fit your preference simply because you made the wrong choice. If you want to avoid such inconveniences, stick to this article up to the end.
We will be giving you every bit of information concerning the same in the spirit of enriching you before making a buying decision. Before we do that, we find it of great essence to give some reasons for owning a tractor. Here are some of the reasons.
Why Do You Need The Best Tractor?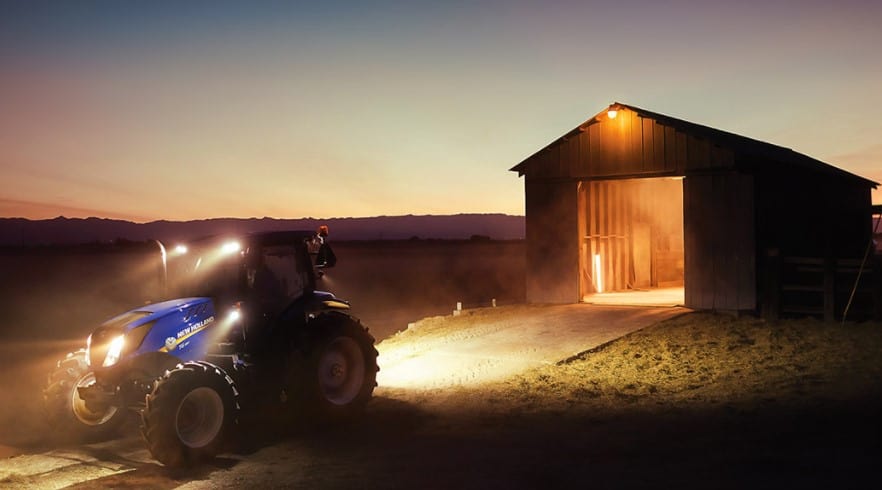 The best tractor will save you a wage bill. In a situation where you would hire human labor and cost you a break in your bank account, a tractor would need just a fill of a fuel tank, and you are ready to go. Additionally, these tractors pose a big machine; let not this intimidate you.
They are huge but easy to operate. With the recent development in technology, some companies have made a massive move in developing self-drive tractors though fully driverless tractors are a decade away. Our point here is that with the right tractor, you get to reduce operator fatigue.
Lastly, the best tractor would help do not just farm operations but also other activities, including transportation of farm products and, of course, gardening operations ranging from gardening to small farming.
This is only possible with versatile machines with the ability to attach and detach accessories for different applications.
Factors To Consider When Buying New Holland Model Tractors
When it comes to getting the right tractor according to your taste and preference, it narrows down to how closely you look at the whole tractor and, to some extent, some of its parts.
They are just other complex machines with a batch of parts, and these facts call for proper research if you mean buying a perfect one. The following are the key factors to consider should be out there trying to get.
Type Of Engine
An excellent and friendly engine is the center of a great tractor. With a tremendous engine, a tractor assures you of power provision to get heavy work done quickly.
Most of the tractors run on an engine that uses either gasoline or diesel. Diesel engines offer more power compared to gasoline ones.
Notably, the strength of an engine dwells on the horsepower, meaning the more horsepower the mower. A large tractor with high horsepower would be ideal for the heavy and intense farm operation, and vice versa is always right.
Type Of Transmission
When you want to buy a tractor, it is also essential to consider the kind of transmission since this makes the difference in how your tractor performs.
For the tractors with the hydrostatic type of transmission, they are driven by just stepping on the pedals, and increasing the speed of the tractor becomes so simple. This is one of the many reasons why people prefer hydrostatic transmission tractors.
Notably, this contrasts with their counterpart using manual driven transmission such as the synchro shift transmission. When changing the speed, the operator is required to change gears using a control stick physically. It sometimes calls for a complete stop to do this hence wasting a lot of time.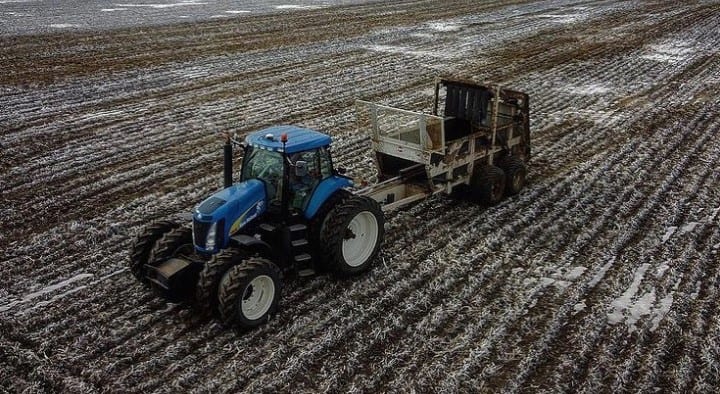 Hitches
You may need tractors that would not just do a type of operation on your farm. Maybe a tractor can have some hitches for attaching accessories to make it versatile.
For your tractor to be used with some other equipment, it has to have one or more attachment hitches at least. Look for a tractor with at least one useful hitch like the three-point hitch that includes a hydraulic lift to raise and lower attached equipment.
Hydraulics
Consider the hydraulic feature when buying a tractor. Hydraulic power is common and can be used in several ways, including easier turning, lifting attachment, and providing power to the implements such as backhoes and front-end loaders.
Tires
A good tractor depends on several things, and among the things is the type of tires fitted. For the tractor to be stable and appear strong, it has to be equipped with wide tires to increase its stability and do heavy work.
Besides, tires are filled with air, but it is possible to fill them with a fluid like the automotive antifreeze or windshield fluid, giving more weight to the tire while providing better and reliable traction.
Used or new
It is worth considering the state of the tractor you want. Do you need a new one or even a used tractor would do you better? It is a question worth answering yourself when you realize the consequences that can befall you buy either of them.
Many people have it that some farmers who own tractors use the life out of the tractors, putting them into use for more than 8,000 hours of operation, leaving them with a little value. 
They sell them second-hand or used. When you buy them, you only use them for a while before they develop an endless complication. On the other hand, new tractors have advantages over the used ones but relatively low in quality.
A-List Of The Best New Holland Tractors
New Holland 3630 TX Plus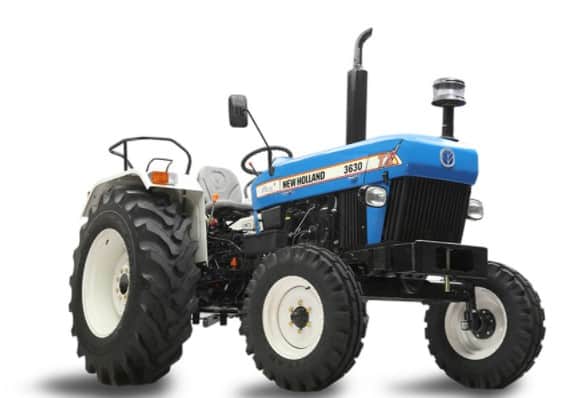 New Holland 23630 is a 55ho range tractor designed with several other features, including a power-packed feature to facilitate and enhance use.
The power-packed feature makes this tractor economical, for it saves a lot on fuel. It has a 12+3 gear combination with low, medium, and high range used in RotavatorRotavator, trail, harvester, and dozer. 
New Holland 3630 also comes with high-quality hydraulics with 24 sensing points, making it excellent to translate to the tractor's high productivity.
This tractor emerges the best with the best quality cast iron for trailing and loader haulage. The tractor manufacturer designed it with a dual-clutch for smooth and easy functioning and robust power steering for easier control and fast response.
The tractor is fitted with a powerful brake that ensures safety, high grip, low slippage, freedom of adjustments, and powerful drag and drop tools.
New Holland 23630 is flexible enough, a feature enabled by the turning radius of 3190 mm or 3.19 meters, providing more comfort even in the small field area. This tractor weighs 2060 kilograms and has a wheelbase of 2045 mm for stability and traction while performing.
It is available in 2 wheel drive and wheel drive, making it ideal for use even during the rainy season when it becomes slippery.
Features and specifications
Two-wheel drive and four wheels drive variant.

Weighs 2060 kg and comes with a wheelbase of 2045 mm

Turning radius of 3190 mm or 3.19 meters for comfortability

Selection of adjustment and heavy-duty drag and pull accessories

Economical in terms of fuel saving

Robust brakes providing high grip and low slippage

Potent steering for easy control and response

Fitted with a dual-clutch for smooth and easy functioning
Pros
Useful even during the rainy season

Easy and straightforward functioning

Economical following its ability to save on fuel

Stable and comfortable due to heavyweight

Durable and long-lasting

call for little maintenance

does a lot within a short time
Cons
New Holland 4710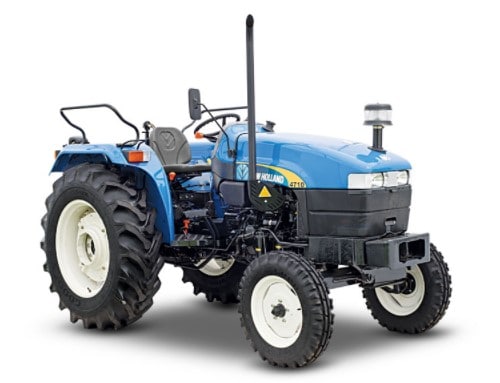 New Holland 4710 is a tractor that can produce more admirable results following three cylinders, 2250 cc, 47 HP output engine at a rate of 2250.
This is a tractor with an oil-cooled system to overcome overheating. It has some fantastic features that make it comfortable and sleek with less fatigue while operating. Some of these features include the oil-immersed brakes, three power take-off forms, a larger clutch, and a steering system.
This tractor comes fitted with constant mesh gearbox options with 8+2 gear options for forwarding and backward responses.
New Holland 4710 is fitted with an air oil pre-cleaner to provide free clean air, which continually improves the tractor's engine performance.
Also, there is a high back-torque that ensures easy operations in partial load operations. With the cat-eye design, the tractor features an airflow technology that gives it an attractive look and improves the machine's cooling efficiency.
Features and specifications
Features single or dual-clutch options

Equipped with a fiber fuel tank that prevents carrion

Inbuilt mobile charger enabling long hours in the farm

Fitted with the 62 liters fuel tank for completing heavy and long tasks without breaks

92 kg bumper for stability during operations

Comes with six spline type of power take-off 

The power output of 43 hp

Ideal when it comes to paddling applications following metal face sealing, allowing long life for the rear axle.

Weighs 1965 kg and has a wheelbase of 1955 mm

The overall length of 3.4 meters and can turn in a radius of 2800 mm.

Six-year warranty
Pros
Durable and long-lasting

Large fuel turn allows long working hours without a break.

Stable and comfortable following heavyweight and large wheelbase

Perfect when dealing with heavy and long tasks

Low maintenance
Cons
No negative issues associated with this tractor
New Holland 6500 Turbo Super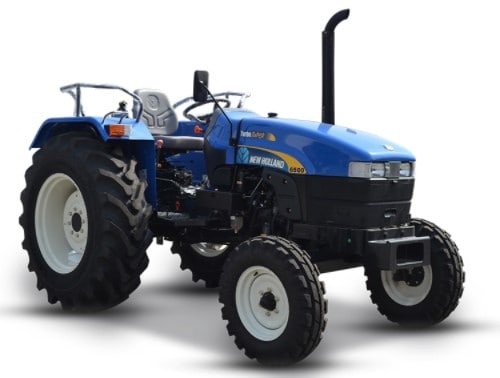 New Holland 6500 Turbo Super is a tractor designed with advanced features that include the multi-disk oil-immersed brakes, extra-large radiator, three powerful cylinders, 3600 cc engine, which is said to give 65 HP at a rate of RPM of 2500.
This tractor is meant to give exceptional performance, unique features outstanding versatility without forgetting its high reliability, making it ideal for over-farm operation. Its engine features a torque backup of up to 15 to 20% and is available in four wheels. 
With this tractor, you will enjoy the constant-mesh gearbox making it ideal for conducting farm operations and commercial applications. When you talk of the New Holland 6500 Turbo Super's comfort, mention its power steering, deluxe seat, and toolbox with bottle holder, and a unit best in displaying. 
It gives 540 reverse PTO speeds at a 54HP power output helpful in applications including RotavatorRotavator and many more. To ensure you minimize the braking when dealing with a heavy and large task, the designer has made this tractor with a 60 liters tank for maximum fuel.  It has a 2000 kg lifting capacity.
Feature and specifications
Coolant cooling system

Double-clutch with the independent clutch lever

Entirely constant or partial synchromesh

Mechanically actuated oil-immersed multi-disc brakes

540 reverse or ground speed

Eight inches air filter dry types with dual element

Comes accessorized with a drawbar, tow hook, and the wagon hitch 

Equipped with 12 forward gears and three rear gears

Digital dashboard with hand accelerator
Pros
Low maintenance 

The perfect heavy and large task

Comfortable operating system

Easy plowing and tilling with a four-wheeled drive

Affordable

Durable and long-lasting
 Cons
It may not be ideal for small scale farming
New Holland 3600 2tx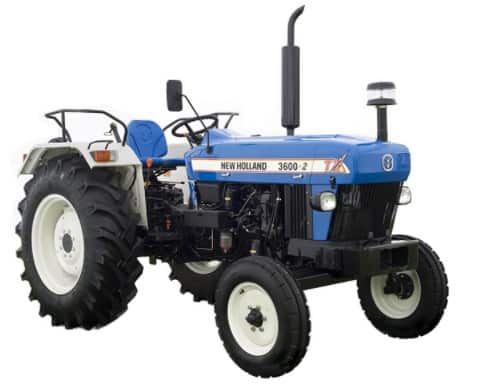 New Holland 3600 2tx is a 5o HP tractor fitted with a three-cylinder engine rated at RPM 2500. Fitted with oil bath kind of filters combined with a pre-cleaner, this tractor gets dust-free air for maximum output and water-cooled cooling systems that ensure the engine doesn't overheat even with longer working hours. 
With the constant-mesh gearbox with eight forward and two reverse rear gears, New Holland 3600 2tx can move forward at 3.08 to 30.88 KMPH and a reverse speed of 4.33 15.59 KMPH. 
This particular tractor also comes with oil-immersed brakes that help it stop instantly. It can handle any road-related work or any agriculture or commercial operations with easy following the power steering.
New Holland 3600 2tx comes with a PTO speed, which is 540, with advanced hydraulics automatic control and control valve. It has a whopping 60 liters' fuel tank capacity making it ideal for performing heavy and large tasks without breaking for fuel.
New Holland 3600 2tx has a wide front and rear wheels for stability and comfy and is available in 2 wheels drive and four wheels drive.
Features and specifications
Fuel efficient engine in 50 HP categories

A multipurpose since it can be used both in road and agriculture operations

Features a dual-type of the clutch that comes hardy during the rotavators and other agriculture operations

It comes with 6 Spline type PTO

Lifting capacity

Weight 2055 kg

Wide front and rear wheels for increased stability can turn in a radius of 3.19 meters with brakes.

Warranty of six years

Mechanically actuated oil-immersed disc brakes
Pros
Fuel efficient making it economical

Multipurpose tractor

Stable and comfortable

Fast and efficient as it gets heavy and large tasks done within a short time
Cons
It's expensive with some extra cost from the initial cost.
New Holland excel 9010 2wd/4wd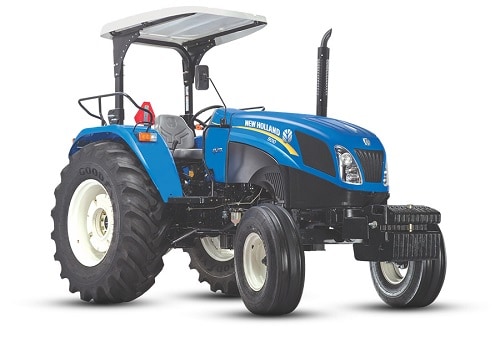 New Holland excel 9010 2wd/4wd is a 90 HP tractor made with excellent quality to rule over all fields. It has a powerful engine of 30667 CC to give users an admirable driving experience.
Not only does this tractor come with a toughness second to none, but it also comes with four cylinders ready to offer users great power along with superb toughness.
New Holland excel 9010 2wd/4wd is economical and affordable and comes with a package with a clearly outlined set of rules and instructions with the nominal price range. It is a tractor with power-packed performance and is carefully designed to meet the needs of the farmer.
New Holland excel 9010 2wd/4wd comes fitted with oil-immersed, providing longer life with little maintenance. It is a perfect tractor for agriculture-related operations with hydraulics such as automatic draft control and position control. It is also strong and enjoys iconic styling in a tractor with a lifting capacity of 2500 kg at the drawbar.
Features and specifications
Power steering makes it possible for the operator to handle it with ease.

Fitted with a 90 liters fuel tank

Equipped with 12 forward gears and 12 rear gears

Comes with an advanced independent PTO type of clutch, making it easy to operate in each agriculture operation

Comes with a dry type of air filter enhancing engine performance 

Weighs 3250 kg with wheels of 2259 mm base area

Comes with two wheels drive and four wheels drive

Comes with a warranty of two years or 2000 hours 
Pros
Capable of carrying fuel in a large amount

Easy to handle due to the power steering

Easy to enhance engine performance with the dry air type filter

Effective and get work done fast.

Enhanced maneuverability due to the two-wheel and four-wheel drive
Cons
Involves some extra cost making it relatively expensive
New Holland 4010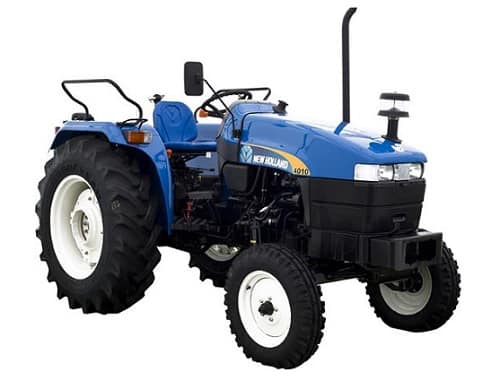 New Holland 4010 is a tractor equipped with advanced features that include the multidisc oil-immersed brakes, bigger radiator, three powerful cylinders engine producing a 39 HP power at a rate of 2000 RPM.
You are assured of nothing but exceptional performance with these tractor features that you have never seen in any other tractor, versatility, and high reliability when subjected to any farm operations. It is available in 2 wheel drive and four-wheel drive and features a torque back up to 15 to 20 %. 
New Holland 4010 has a constant mesh gearbox that makes it carry out both commercial and agriculture operations. Power steering, classic seat, toolbox with an extension for a water bottle, and a best in the class display make this tractor comfortable for anyone operating it.
Additionally, this tractor is fitted with a 62-liter capacity fuel tank to ensure long working hours without breaking for more fuel. New Holland 4010 has a 1500 kg lifting capacity, and weighs 1800 kg, and has a wheelbase of 1865mm.
Feature and specifications
Accessorized with drawbar

Water-cooled cooling system

Equipped with oil bath air filter with pre-cleaner for enhanced engine performance

Eight forward gears and two rear gears as per the standard

Single or dual type of clutch making it easy to operate

Turns in a radius of 2.765 meters
Pros
Easy to operate

Ability to enhance engine performance

System never overheats

Low maintenance

Gets work done fast and efficiently

Large fuel capacity

Durable and long-lasting
Cons
No negative issue found with this tractor
What Are Some Alternatives To Buying A Tractor?
Tractors are useful machines when it comes to doing agribusiness. While it makes every other agriculture activity easier and useful, not everyone can afford to buy one, and maybe even necessary for one time after a long time.
Following this reason, we have prepared a list of the alternatives to buying a tractor. Here are some of the alternatives.
 Financing alternatives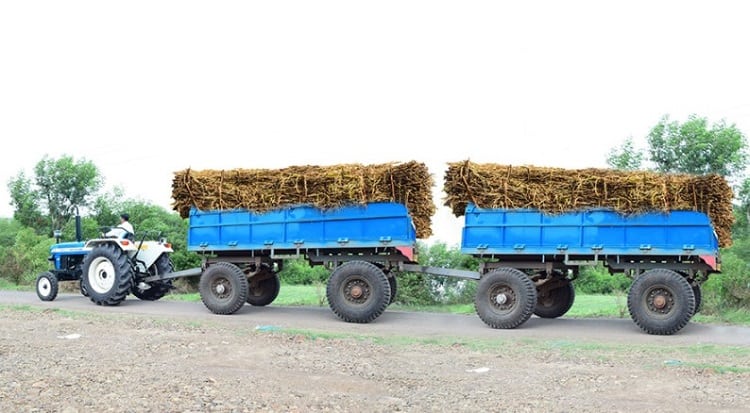 When we talk of financial alternatives, we don't mean the aspect of getting a loan from a financial institution since not everyone is eligible for such a financial institution.  Take it this way; if you plan to buy a new home, you can add a tractor as part of your mortgage.
However, this is effective when the equipment involved is extensive and adds little to your monthly mortgage payment. You may find that not every company is willing to do this, but you find this strategy appealing, look around for a company going as per these terms.
 What if you have a short need for tractors? You can always buy and then sell it at a later date. Unlike some other equipment, tractors never depreciate that much in value even after several years, provided it is in good condition. Factually, some old tractors between 40 to 50 years presently cost more than they were bought.
Non-purchasing option
If you don't like the idea of buying, you can as well consider renting machinery only when the need arises. You will find dealers renting anything starting from single bottom plows to tractor loader backhoes. Rental charges are lower compared to the initial buying price.
You can have the equipment rented, either delivered or picked up by the dealer, and you don't need an operator's license to expect for the relatively large equipment.
Secondly, you can consider borrowing from friends with someone if this is acceptable where you are. You should be ready to reciprocate should a friend need any other tool you possess.
Bartering is also an alternative here. You opt to perform for someone in exchange for their service to you. Get someone with the equipment you need and can that particular job perform an equal value service of some kind for them.
FAQs
Question: What is the giant tractor new Holland makes?
Answer: The T9 is the newest biggest model that the manufacturer makes. It is the world's largest agribusiness tractor that needs unbridled power, unsurpassed strength, and the most dependable and advanced systems to take your operations performance to new heights.
Question: Are new Holland tractors any good?
Answer: If you are looking for a heavy, durable, healthy, and practical tractor, the new Holland tractor is the real deal with almost unbeatable money value.
Tractors from New Holland are good all-round for both large farm operations and hobbies. It is lightweight compared to other tractors but has a powerful driveline.
Question: How do I check for the hydraulic fluid on a New Holland tractor?
Answer: You need to pull out the dipstick, and you will see the hydraulic fluid level. If you need to refill or add more, use a clean funnel to fill the reservoir with new oil and in the required amount, ensuring you don't overfill it. After it has reached the recommended level, install a dipstick and the cap.
Question: When should you check the hydraulic fluid of the new Holland tractor?
Answer: It is recommendable to check your New Holland tractor's hydraulic fluid at the beginning of each day right before you start using it.

We recommend doing this when the machine is fully folded. The fluid is cool because fluid level tends to fluctuate when the unit is entire versus unfolded with the fluid moving from the hydraulic tank to the individual cylinders.
Question: Where are the new Holland tractors built?
Answer: New Holland tractors are manufactured worldwide, with the current administrative headquarters located in Turin, Italy. Simultaneously, the new Holland, Pennsylvania, serves as the brand's headquarter for North America and the most extensive tool producer globally.
Question: Is the New Holland tractor fluid the same as the hydraulic fluid?
Answer: Hydraulic fluid or oil is considered a medium for transferring power, while tractor fluid is a transmission fluid that lubricates the moving parts with the transmission. Tractor fluid will enhance the performance of your new Holland tractor through tractor part protection.
Conclusion
The tractor is useful when it comes to doing gardening stuff. This is something we cannot keep debating about as the machines themselves say it all.
When you consider the benefits of owning one, for the people who are able or renting out to those who can't afford to purchase, you will undoubtedly agree with me that it's the equipment worth investing in. new holland tractor you will get to enjoy operations with no fatigue, use your tractors for different applications outside your farm, save on overhead cost among others.
Out of the six new Holland model tractors, one has stood out from the rest. New Holland 3630 TX Plus emerges as the overall best New Holland tractor from the six lists. 
The reasons it has made it to the lists are none other than the power-packed feature to facilitate and enhance its use. It saves a lot on fuel, 12+3 gear combination with low, medium, and high range used in RotavatorRotavator, trail, harvester, and dozer.
New Holland 3630 also comes with high-quality hydraulics with 24 sensing points, making it excellent quality-wise, translating to the tractor's high productivity, dual-clutch for smooth and easy functioning, power steering for easier control, and fast response.
In short, you will get to enjoy every bit of this model following its wide range of features mentioned earlier in this article.