Latest posts by Tractor Logic Team
(see all)
The success of a company, especially one dealing with motor manufacturing, lies in its reputation over the years. A large section of the world population has heard of the word Mahindra since the company has its presence in over 40 countries. The company's reputation precedes it in the manufacture of tractors.
Mahindra Company has produced several models of tractors in its manufacturing operations. These machines help pull farm equipment for plowing, harvesting, fertilizing, planting, and cultivating. Additionally, you can use a tractor for personal transport or moving materials from point A to B. 
With such an extensive range from which to choose, it can be overwhelming for you to pick the best Mahindra tractor that fully satisfies your needs.
Therefore, this article will inform you about six of the best Mahindra tractor models. However, before we dive into that, we need to learn a few things about these exceptional machines to help you buy one that best fits you.
Types of Mahindra Tractors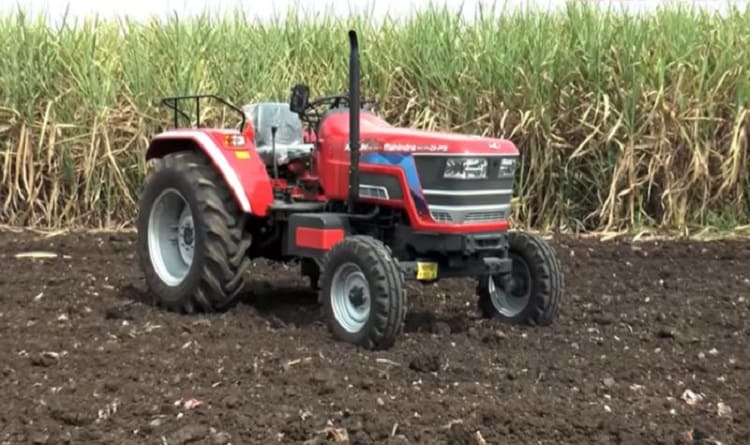 If you are a small farmer, buying massive farm equipment is not advisable. On the contrary, if you own large pieces of land, you might need larger farm equipment. It's with this in mind that Mahindra came up with different types and sizes of tractors. The following types of tractors categorically ideal for large, small, and medium lands:
Mahindra SP Plus
The SP Plus is one of the most powerful tractors today since it has the lowest fuel consumption in all the tractors in its category.
You will surely fall in love with this tractor's performance, thanks to its high max torque and a powerful ELS DI engine. These tractors are compatible with all farming equipment, and it comes with a 6-year warranty. Some of the tractors in this category are Mahindra 275 DI SP Plus, 415 DI SP Plus, and 575 DI SP Plus.
Mahindra NOVO
If you want to tackle challenging agricultural tasks, the NOVO is your best partner. Among other farming applications, the tractors in this class can be used for harvesting, haulage, puddling, reaping.
With a stable and robust lift capacity hydraulic system, these tractors are fit for several farming and haulage tasks. Some of the outstanding features that make this category unique are its efficiency in fuel consumption, ergonomic design, and low maintenance. The tractors in this category include Arjun NOVO 605 DI-i, 605 DI-MS, and Mahindra NOVO 755 DI.
Mahindra JIVO
This is a wide range of Mahindra tractors that can be used on all terrains and suitable for all agricultural operations. They have horsepower ranging between 20 and 36, and they are powered by a Mahindra DI engine that is fuel-efficient.
Additionally, these machines are equipped with the 4-wheel drive function to help you maneuver your land with ease, regardless of the weather. Some of the Mahindra JIVO tractors include 245 DI 4WD, 225 DI 4WD, 245 VINEYARD, and 365 DI 4WD. 
Mahindra XP PLUS
This category is quite similar to the SP Plus. Besides having the same powerful ELS DI engine, these tractors also boast high max torque, unrivaled performance, and compatibility with all farming equipment.
Like the SP Plus, the XP Plus also comes with a 6-year warranty. The tractors in this category include Mahindra 275 DI XP Plus, 575 D XP Plus, and 415 DI XP Plus. 
Mahindra YUVO
These advanced machines come with a powerful engine, new features, and advanced hydraulics to ensure that you carry out your agricultural operations faster, better, and more efficiently.
Some of the best features on these units include 12 forward and 3 Reverse gears, more backup torque, clear headlamps, a luxurious adjustable seat, and high lift capacity. These tractors can handle 30 different tasks, which makes them better than the rest. Some of the tractors in this class are Mahindra JUVO 575 DI, 575 DI 4WD, 585 MAT, and 415 DI.     
Factors to Consider when Buying a Mahindra Tractor
As a farmer, your needs, requirements, and preferences are different from those of your neighbors. Like any other product in today's market, there are several considerations you should make when looking for a tractor to ensure that you get one that suits you. Here are some of these considerations:
Engine
The engine is the heart of a tractor because it gives the machine the power to handle different farm operations. Most tractors use gasoline or diesel fuel.
Engines that run on diesel fuel are more powerful than their gas colleagues. The engine's strength is measured by checking its horsepower: high horsepower means that it is powerful. Therefore, if you want to handle challenging tasks on your farm, you should consider a high horsepower tractor. 
The Size of Your Farm
Before you think of investing in a tractor, you need to understand the farm's size where you intend to use the machine.
You don't need an accurate measurement, but having an approximate acreage of your land will help you get the best tractor that suits your needs. You can choose a sub-compact tractor for small farms, while Row Crop tractors can handle heavy tasks on medium and large-scale farms. 
Hitches
What kind of equipment will you use together with the tractor? Hitches are essential to help you attach other farming equipment to the tractor.
A three-point hitch is one of the most important. This hitch has a hydraulic lift for raising and lowering the connected equipment.
Simple drawbar hitches and other specialized attachment hitches are also common. For instance, you might need specialized hitches to attach a forklift or a front-end loader. 
PTO
 PTO stands for Power Take Off, which is among the essential parts of a tractor. It is a rotary shaft found at the tractor's back, and its primary duty is to power any equipment attached to the tractor, such as hay balers and mowers.
The PTO's horsepower is rated separately from the tractor's engine. There are two PTO options: Live and Independent. Live PTO runs while the tractor is operational and stops when the tractor is switched off. Independent PTO is not connected to the tractor's transmission, and it continues to operate even when the tractor stops or backs up.  
Transmission
The type of transmission on a tractor determines how it will perform and how easy it is to drive it. A machine with a foot pedal transmission is the easiest to operate because all you have to do is press harder on the pedal to increase its speed.
On the contrary, a tractor with a manual gear-driven transmission, such as a synchro-shift, requires the operator to use a control stick to switch gears physically. Although such transmission makes it easy to maintain a particular speed, it is not as easy to handle as the foot pedal transmission. 
Headlights
Sometimes, your agricultural operations may continue into the evening, especially if you are a large-scale farmer. Visibility is low when it gets dark, and that is why you need a tractor with clear and high-quality headlights to help you see better in the evening or early mornings. 
Your Budget
This is a significant consideration because human beings have different objectives when it comes to spending their money.
Having a budget in place is a sure way to help you get the tractor that best suits you and avoid overspending. Since there are many tractors in today's market, their prices, too, vary extensively. The size, the attached equipment, and included tractor accessories are some of the factors that bring about the difference in prices of different tractors.
Open or Enclosed?
 People are different. You may be the kind that enjoys fresh air and the smell of the soil and plants as you work on your farm.
For such people, a tractor with an open-top is the most preferable. If you want to enjoy the fresh air and the smell while under a shade, you can go for a tractor with a canopy that will protect you from the sun.
However, a tractor with an enclosed cabin is ideal for protecting you during rainy seasons. Additionally, with an enclosed cabin, chances of getting injured are minimal in case the tractor rolls or flips over. 
6 of the Best Mahindra Tractor Models
Mahindra is one of the most reputable companies in the automobile industry. With their presence in over 100 countries, their tractors have been of great help to many farmers worldwide.
Since its establishment in 1954, Mahindra has risen to be among the largest vehicle manufacturers and the largest tractor manufacturer globally. We picked the following six tractor models from Mahindra that we feel are the best: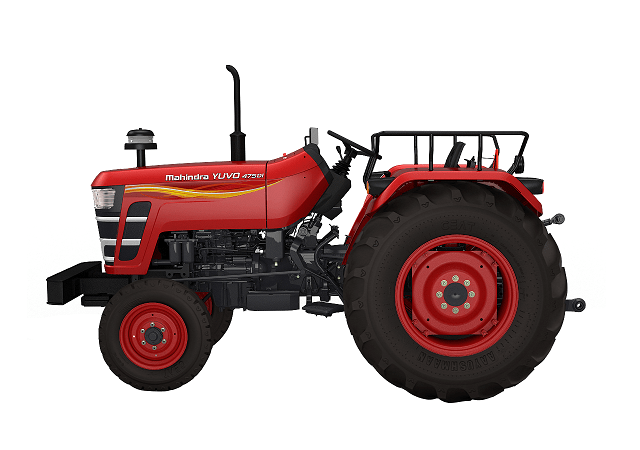 If you are looking for a reliable and pocket-friendly tractor for your farming purposes, YUVO 475 DI is your best shot. With a 2730cc 4-cylinder engine and an estimated 2000 Revolutions per Minute (RPM), this machine works better, faster, and more than any other.
The 60-liters fuel tank assures you that the tractor can handle large farms without running out of juice. Do not worry about the applications anymore because this beast can handle more than 30 of them.
Such applications include potato planter, seed drill, gyrator, MB plow, full and half cage wheel, disc plow, leveler, and water pump, among others. 
The weight of this unit is 2020 kilograms, and it boasts a whopping 1500 kilograms lifting capacity. So you can be sure that the tractor can handle any type of load that is 1.5 tons and below.
Another feature that makes this machine ideal for even large-scale farmers is its comfortable seat that can be adjusted to different heights. Such flexibility helps you operate the tractor with maximum comfort, regardless of how long you drive it. Besides the high lifting capacity, the tractor has 15 gears: 12 forward and three reverse gears, and a high backup torque.
The machine uses full constant mesh transmission, oil-immersed brakes, and a single clutch dry friction plate. Such features make it easy to maneuver the tractor through your farm, with ground speeds ranging from 1.45 to 30.61 km/hr.
The tractor is relatively stable on all terrains, thanks to its 6X16 front wheels and 13.6X28 rear wheels. With this tractor, you can even work in the evening, at night, or very early in the morning. This is promoted by the tractor's clear lens headlamps that light up your way as you operate the machine through your farm. 
Pros:
Handles 30+ applications

Large fuel tank capacity

Adjustable seat for maximum comfort

Usable any time of the day

High lifting capacity
Cons:
Available in only 15 states

Some customers find the PTO very slow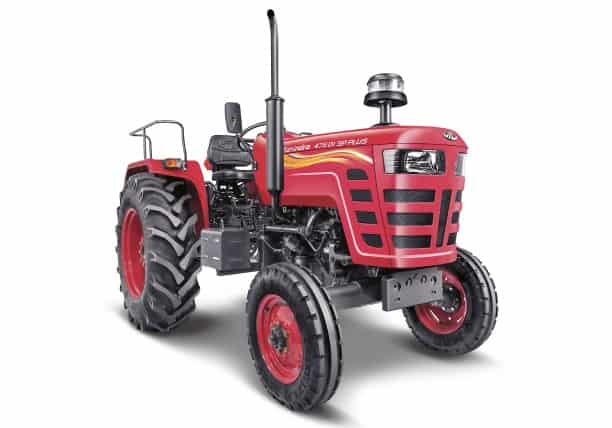 This is the perfect tractor for farmers who desire to handle their farming operations like pros and see good results. The tractor's engine is quite powerful with 47 horsepower, while Power Take-Off's horsepower is 42.
With the engine's 4-cylinders, you can be sure of efficient mileage on the field when working on crops like sugarcane, wheat, and rice.
The machine comes with a hydraulic lifting capacity of 1.5 tons, making it ideal for lifting heavy implements like cultivator, plow, and rotavator. Unlike the YUVO 475 DI, the 575 DI SP PLUS has ten gears: 8 forward and two reverse gears.
However, this unit has a higher cc of 2979, making it more powerful than the YUVO 475 DI.  Additionally, you can either choose to use the 2WD or 4WD function depending on your farm's terrain. Maneuvering through the farm and controlling the tractor is easy, thanks to its power steering system and oil-immersed disc brakes.
The company offers a 6-year warranty to show the confidence they have in their tractors. So you can sit and relax, knowing this tractor is here to stay, and it will serve you for a long time. 
As you operate the machine, you have the freedom to use either a single or dual RCRPTO clutch. Moreover, you can choose to work with either the 2-wheel drive or 4-wheel drive tractor's function depending on the terrain and the season.
Mahindra manufactured this tractor with all types of farmers in mind, with its performance guaranteed by high max torque and a powerful ELS DI engine. The tractor can be used for various agricultural operations because it is compatible with all farming equipment.
The tractor's clear headlamps come in handy when working during the evening, at night, or very early in the morning.
Pros:
Powerful ELS DI engine

High performance

Durable

Supports all farming equipment

2WD and 4WD options available
Cons:
Fewer gears

Hydraulic issues may arise after some time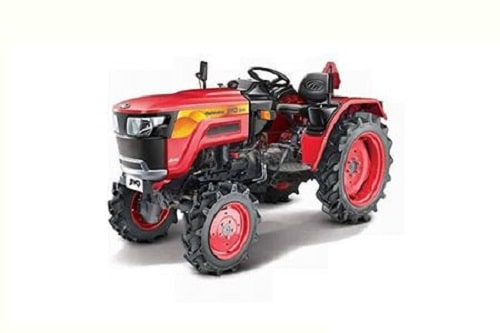 As the name suggests, this tractor can be useful in any terrain and season, courtesy of its 4wheel-drive function. You don't have to store your machine away when the rainy season comes because, with the 4WD function, this tractor can maneuver through mad and rugged terrains.
However, this is a smaller machine that is not ideal for large-scale farming. The tractor comes with a 1366cc 2-cylinder engine with a horsepower of 20, which makes it less powerful than the prior models. The machine's Power Take Off, too, is not very powerful because it has a maximum horsepower of 18.4 or 13.8kW.
On the brighter side, the tractor has 12 gears: 4 reverse and 8 forward gears, which gives you enough options to handle your farm. 
Additionally, its hydraulic lifting capacity of 750kgs can tackle challenging tasks, and the engineering, components, and assembly used on this unit are of high-quality. Do not worry about the tractor running out of fuel out in the field because the 22-liter fuel tank lasts for hours before it requires refueling.
The speeds that this tractor can achieve will leave you mesmerized, which are a 2.08 to 25km/h forward and 2.08km/h reverse. When it comes to controlling this tractor, the JIVO 225 DI 4WD offers both mechanical and power steering options.
Besides the 4 wheel-drive functions, the tractor has wide 5.2X14m front tires and 8.3X24m rear tires that ensure its stability on different terrains.
You can conveniently attach some accessories to this machine, including a toolbox, a drawbar, and a bumper. Additionally, if you want to protect yourself from the hot sun, the tractor offers you the option to attach a canopy.
This machine may be small, but its work is efficient and admired by many Indian farmers. JIVO 225 DI 4WD is one of the most sought-after mini tractors due to its outstanding features and affordability.
Pros:
Affordable

4-wheel drive option for challenging terrains

A large 22-liter fuel tank

Mechanical and Power Steering options available
Cons:
1366cc engine is not very powerful

The tractor is not ideal for large-scale farming operations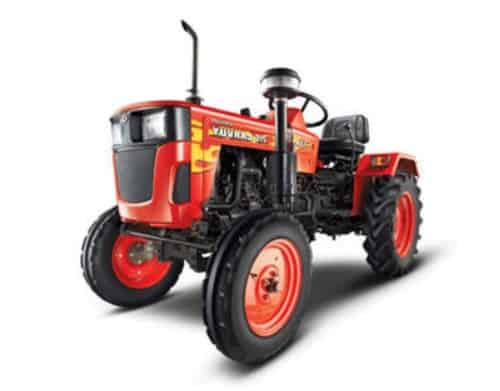 This unit is one of the most efficient compact tractors, making it suitable for small farms and fuel-effective. Besides helping you with different farming tasks, this tractor handles inter-farm operations, such as spraying and cultivation pretty well.
The fuel capacity for this mini tractor is 19 liters, while its cubic capacity stands at 863.5cc. The tractor's single-cylinder engine is not so powerful, but it is water-cooled to prevent overheating. The operator's comfort is guaranteed by the side-shift gear lever system, which is ergonomically designed to minimize fatigue. 
With a Haulage Capacity of 1.5 tons, this tractor can transport huge amounts of goods, for instance, during harvesting time.
Yuvraj 215 NXT is ideal for farmers with small lands, and it can be used as a sprayer, haulage, water pump, gyrator, thresher, cultivator, reaper, and sowing. The tractor comes with 2WD only with a maximum speed of 25.62km/hour. Additionally, this unit comes with a standard type of Power Take-Off with a maximum horsepower of 12.
The maximum weight that this tractor can lift with its hydraulic system is 778 kilograms, and its weight is 780kgs. Such lightweight makes the Yuvraj 225 NXCT the best option in fruit and vegetable farming. 
The tractor's gearbox can support 9 gears: 3 reverse and 6 forward gears, which is much fewer than the 15 gears supported by the YUVO 475 DI. With such gear options, Mahindra Yuvraj 225 NXT can achieve a maximum forward speed of 25.62km/h and a maximum reverse speed of 5.51km/h.
For maximum stability, the tractor is equipped with 5.2X14.8 front wheels and 8X18.6 rear wheels. You can now operate the machine without worrying about rolling or flipping over, thanks to these tires.
The Single Friction Plate type clutch eases operating and maintenance, while the Wet Air Filter supplies the engine with clean air for maximum performance. 
Pros:
Water-cooled engine to prevent overheating

Side-shift gear lever system that minimizes tiredness

Large 1.5 tons haulage capacity

Fuel efficient
Cons:
Not ideal for large farms

Only 2 wheel-drive option available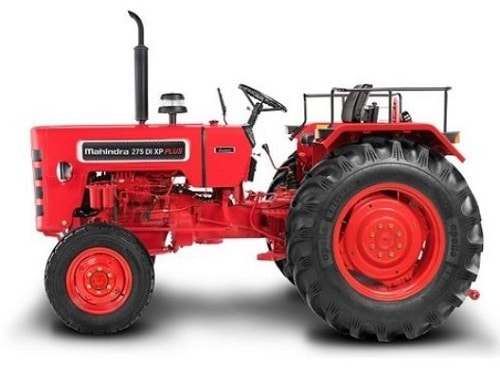 475 DI XP PLUS is one of the most recent and advanced releases by Mahindra, which follows India's new generation of manufacturing. If you are looking for an innovative machine to help you boost your farm's output, this is among your best options.
With a 44HP 4-cylinder engine, this tractor produces 2000 engine-rated Revolutions per Minute (RPM). The engine capacity is 2979cc, and the Power Time Off horsepower is 39, making it one of the most robust machines on our list. The tractor can handle different farming equipment, including a cultivator, reverse plow, and rotavator. 
When it comes to steering the unit, you can either use a manual or power system, enhancing comfort as you work on your farm.
With a lifting capacity of 1500kgs, you can be sure that this excellent machine will tackle almost every load in your farming operations. The tractor's Dual type clutch is essential in agricultural applications and prolonging the life of the clutch.
You don't have to worry about smooth gear shifting because the Constant Mesh Gearbox handles that very well at any speed. The gearbox supports 8 forward gears and 2 reverse gear options, which helps achieve a range of 2.2 to 29.9km/h forward speed and 4.1 to 11.9km/h reverse speed. 
The front axle guarantees the versatility of this tractor when working on different plants and row widths. Additionally, the engine's performance is unmatched, thanks to the 3-layer oil bath air filter consisting of a pre-cleaner. 
One of the things that worry people most about tractors is the braking system. However, the Mahindra 475 DI XP PLUS is equipped with oil-immersed brakes, which are durable and they bring the tractor to a stop almost instantly. With this 2-wheel 1825kgs tractor, you can be sure that your farming experience will be different.
Pros:
A powerful 2979cc 4-cylinder engine

Smooth gear shifting

A durable and efficient braking system

High 1500kgs lifting capacity
Cons:
Only 2 wheel-drive available

Not ideal for small-scale farming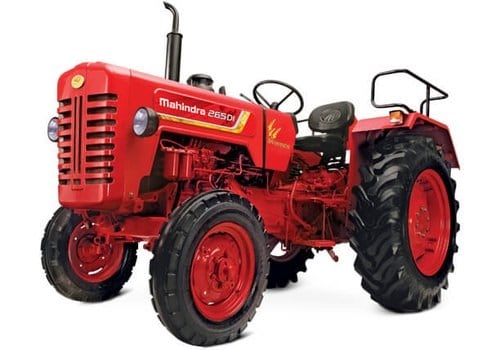 Last but not least is the Mahindra 265 DI, which besides being small, it is equipped with all the features of a well-organized tractor.
With an engine that produces 30 horsepower, plus 8 forward and 2 reverse partial constant mesh gears, this tractor is the most efficient in its category. The tractor's 3-cylinder engine has a cubic capacity of 2048cc and produces 1900 engine-rated Rotations per Minute (RPM).
Besides being water-cooled to prevent overheating, the engine receives clean air from the Dry Air Filters for maximum performance. The machine's Partial Constant Mesh gearbox supports 8 forward and 2 reverse gears, and the oil-immersed brakes stop the tractor almost instantly. 
The tractor's Power Steering system makes it easy to control the machine on the road or in agricultural/commercial operations. The Power Take-Off speed is 540 and is equipped with a control valve, advanced hydraulics, and automatic draft control.
This tractor has a large diesel tank, which stands at 45 liters in capacity. For the tires, 6X6 is the ideal size for the front wheels, and for the back wheels, you can use either 12.4X28 or 13.6X28. The downside to this exceptional vehicle is that it features only the 2 wheel-drive functions.
Without the 4WD function, it means that the machine may not operate in very muddy places or on steep terrains. Among the tractors with 30 horsepower, the 265 DI is the most fuel-efficient.
The tractor covers a wheelbase of 1800mm, and the maximum weight that it can lift is 1200kgs. Additionally, the tractor's 6 spline Power Take Off has an output of 26 horsepower. You will receive a 2-year warranty from the manufacturer upon purchasing this product.
Pros:
Fuel-efficient

A powerful 2048cc engine

A 2-year warranty

Power steering system

Water-cooled engine to inhibit overheating
Cons:
Only 2 wheel-drive functions available

Not ideal for extensive agricultural/commercial activities
Tips for Maintaining Your Mahindra Tractor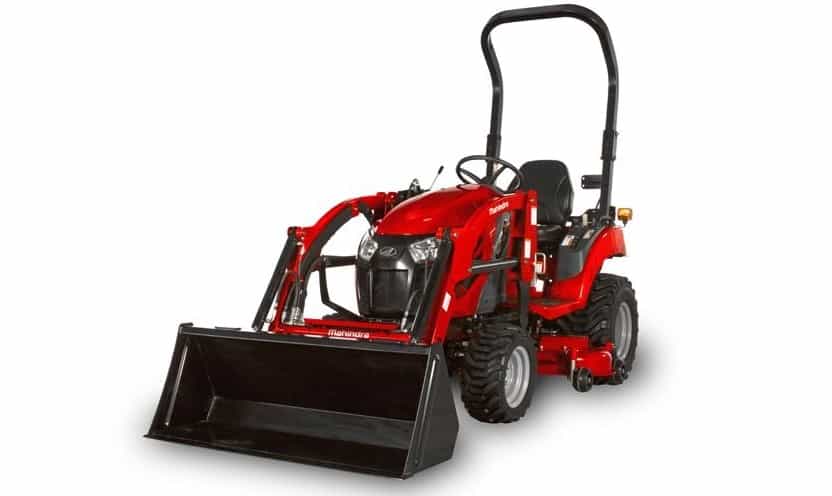 The best way to ensure that your Mahindra tractor serves you for a long time and reduce ownership costs is by following a maintenance schedule. The Operator's manual has these maintenance tips clearly laid out. Some of the best tips to follow to always keep your tractor in good condition include: 
Use the recommended oils and filter to maximize the tractor's performance.

Check the hydraulic system regularly for microscopic elements that may contaminate the oil and make the system fail.

Check the cooling system regularly. Besides confirming the antifreeze levels, you need to check that the additives in the coolant are not exhausted. 

Keep an eye on leaking seals and repair any that appears.

Check and keep the belts and hoses are in perfect condition.

Check the air cleaners and fuel filters regularly and clean them to help your tractor operate smoothly.

Inspect the tires' air pressure and ensure that they are well inflated every time before you drive into the farm.

Carry out weekly maintenance for the gearbox to ensure that it works effectively. 

You should change the hydraulic lines at least once per year.
FAQs
Question: Where in the U.S can I find Mahindra Tractors?
Answer: There are three Mahindra assembly plants in the U.S: one in Houston, Texas, another in Chattanooga, Tennessee, and the third one in Marysville, California. The Houston, Texas plant is located at Mahindra's North American headquarters.
Question: Where are Mahindra tractors manufactured?
Answer: Tong Yang Moolsan is a company in South Korea that manufactures some of Mahindra's main products. The company is the leading tractor manufacturer in South Korea. The rest of Mahindra's tractors are manufactured either in India or China. 
Question: Which tractor size do I buy for my 5-acre farm?
Answer: Instead of getting the large tractors for such a small piece of land, you can just use the larger riding garden tractors. They have horsepower ranging between 16 and 18, they can pull some implements, and they are easier to maneuver on such small areas. 
Question: Why is tractor horsepower so low? 
Answer: A tractor's horsepower is directly proportional to the Rotations Per Minute (RPM). The RPM on tractors is low, and thus the horsepower is low, too, when you compare to other vehicles with the same cubic capacity (cc) engine. 
Question: Is RPM related to the engine speed?
Answer: RPM stands for Rotations Per Minute, which represents how fast the engine is spinning. The thumb rule here is that the faster the engine spins the more power it produces. At high RPM, the engine burns more air and consumes more fuel. 
Final Thought
Tractors have been game-changer in the farming department around the world. They make work easier and work more effectively and faster than human beings. Mahindra, the world's leader in tractor manufacturing, has been in the industry for decades, and they have brought us some of the best products.
The above list consists of six of the best tractor models from Mahindra. However, in my opinion, the best of them is the Mahindra YUVO 475 DI.
Besides its 60-liter fuel tank, this tractor can handle 30+ applications, and its gearbox supports 15 gears (3 reverse + 12 forward). The machine has a powerful 2730cc 4-cylinder engine, meaning that it can tackle any farming task effectively.
However, we cannot make the pick for you. The choice you make depends on the factors we discussed above, such as your budget and your farm's size. Ensure you read them keenly so that you can make an informed decision.   
Read more: