Latest posts by Tractor Logic Team
(see all)
Are you yearning to own the best Kubota tractor model? Such tractors come with unique features to support their functionality.
For instance, Kubota tractor models differ in horsepower, delivering different results according to their capabilities. More importantly, some models will have varying lift capacities if you desire to use them for light or heavy-duty applications. 
We intend to educate you on some basic features and benefits of different Kubota tractor models and equip you with a great understanding of these models. In the meantime, if you want a good Kubota model, then narrow your options from this list. 
How to choose the Best Kubota Tractor Model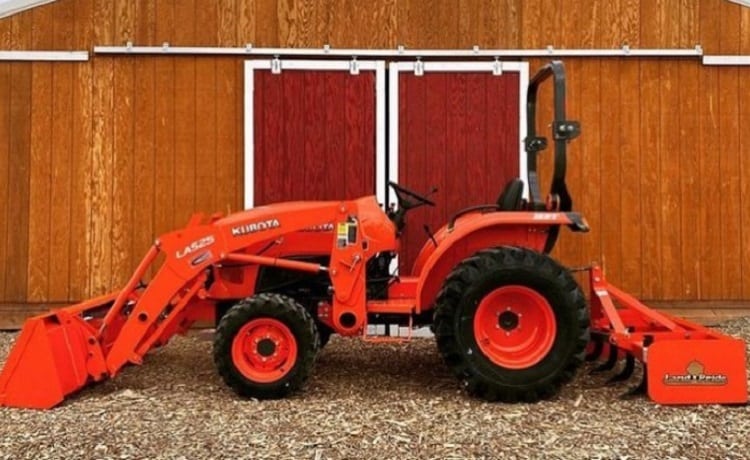 Tractors happen to be complex machines that feature different moving parts. About that, it is in the right step if you take into account particular elements that offer you a clue of a suitable tractor for you. So, where do you start? Of course, you should consider these points criticality: 
Engine
An engine is the heart of your tractor for providing suitable energy to get your work done. We measure its strength in terms of horsepower.
Higher horsepower means more power. Most of the tractors run on diesel or gasoline fuel. However, diesel engines are more powerful than their gas counterparts. 
Similarly, lower horsepower, especially the one below 35HP, is ideal for performing tasks like mowing lawns or making hay. Another horsepower known as Power to Take (PTO) is unique for performing main farm activities. It refers to the power to handle implements or attachments, and it measures your tractor's capability. 
Transmission
Transmission is another factor that makes a huge difference in determining the performance of a tractor. Some tractors have a hydrostatic transmission where the user drives it by pressing a foot pedal. For example, you can increase a tractor's speed by pushing the pedal hence easy to operate. 
Other forms of transmission are manual oriented such as synchro-shift transmission. Such an option requires an operator to shift gears with the control stick physically.
It becomes easy to maintain at a constant speed since the driver puts it in a suitable gear and lets it go. However, they are not as simple as foot pedals. 
Type of Tractor
Not all tractors are the same because they serve specific purposes. We can narrow down these types into the following categories: 
Utility Tractors:

Such tractors are more powerful and bigger by allowing more attachments for handling general tasks like hay production and excavation. 

Compact Utility Tractors:

These are smaller versions for serving agricultural tasks like nursery work or landscaping. 

Row Crop Tractors:

This category of tractors are suitable if you are doing crop production. Large tractors have specialized functions to haul fields or use implements.

Articulated 4WD Tractors:

They are the largest options in the market for pulling planting and tillage implements. 
Lift Capacity
Different tractors have varying lift capacities like static lift capacity, arm lift capacity, and full height lift capacity. Besides, every model has varying hydraulic flows and pressures. We advise that you buy a tractor from the same manufacturer to enforce compatibility. 
Comfort and safety
You need to operate a comfortable tractor, right? A safe and comfortable tractor should have enough space between pedals and fenders.
Also, it should have a properly designed platform for easy usage by the operators. Another important aspect is having a comfortable steering platform and set adjustability. 
A good tractor should have easy-to-access controls within a normal range. The handholds should have a fine and comfortable grip. The panel lights should be visible to allow one to read its parameters at a glance. Lastly, the tractor should have headlights for use in dark or foggy areas comfortably. 
Hitches 
One can make a tractor to be flexible by using at least a specific type of hitch. The most common type is a three-point hitch. Such includes a simple drawbar hitch hydraulic lift for lowering and raising attached equipment.
Property size
Consider the size of your farm to select a suitable tractor. For example, if you own a large-scale farm, then a more horsepower tractor is convenient to perform different tasks such as mowing, tilling, and spraying. Smaller size farms need less than 35 HP to fit all agricultural purposes.
Wheel-drives
A tractor can have a four-wheel or a two-wheel drive design. In any case, a four-wheel-drive machine has more traction and grip to move on different surfaces without any challenge. Other models support both where an operator can choose from the suitable one at a given time. 
Budget and Warranty
It is noteworthy that tractors are costly equipment when you want to invest in them. You should set aside a good budget if you're going to have a decent option. Additionally, different models come with different warranty periods and terms. Ensure that you select the right model with better warranty terms to support your mission. 
Maintenance Tips for Your Tractor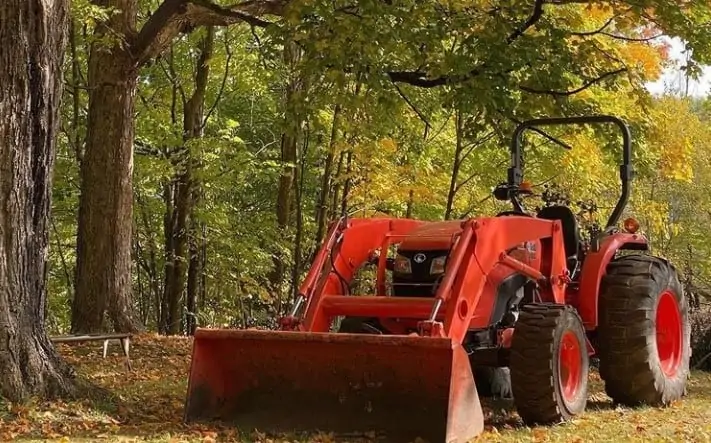 One must take good care of a tractor to keep it updated and remain mechanically sound. For instance, you should ensure that all parts are in good working condition for efficient and safe operation. Here are the best maintenance practices that you should never fail to overlook:
Update the Tank with new fuel 
In case the tank contains leftover fuel from the winter months, ensure that you drain it and refill it with a fresh supply. Such actions prevent any condensation buildup risks to enhance smoother running.
As you inspect the fuel quality, ensure that you check other fuel levels. Add some more lubricant and hydraulic oil to keep the transmission system sound. Furthermore, add more coolant to keep your engine protected from the risk of overheating.  
Clean the battery
If you leave your tractor idle for a while, chances are the battery will begin to discharge. Such a condition can overtax an alternator and cause engine failure in extreme cases. Suppose battery juices run low; you can revive them with the use of the high-powered charger. 
Additionally, inspect all electrical connections for any fractures and grease residue due to corrosion and offer them a thorough cleaning. If the battery functions optimally, then it becomes ideal for full tractor operation. 
Inspect Tire Condition 
Inspect the tire for any cracks in the rubber. Also, ensure that these tires have consistent air pressure levels. Use a compression machine to inflate the tire if the air pressure is low. Suppose you notice significant wear, then it is worth replacing the tire. Such steps prevent further complications such as a flat tire or a complete blowout in the extreme. 
Sharpen Blade Attachments 
Tractor maintenance is not a preserve of a tractor alone, but it extends to its attachments. For example, if your tractor is serving as a lawnmower, then sharpen its blade attachments. Blades will become rusty and dull over time, so cleaning and sharpening them regularly gives it an edge. 
Any action of sharpening a blade involves detaching it and polishing the edge with a grinder. If you lack a grinding wheel, then you can seek the services of a mechanic. If the blade fails to function well, why can't you swap it with a new one? 
Check Belts for Cracking 
Drive belts are critical components of a tractor that ought to be in proper condition to ensure your tractor's longevity. When belts fail, hydraulic pumps, cutting blades, the alternator fail too. You can examine your belt for rotting, slippage, weather abrasion, and malfunctioning and replace it if need be. You may need a professional if the belts are not in good condition. 
Review of the Best Kubota Tractor Model 
Kubota is a reputable company that makes exceptional tractor models that meet different consumer needs. Owning a tractor comes with several benefits, such as completing your tasks in a short period. If you are still reading, then it shows that you want to know more about different models. Here are suitable options for you. 
Kubota MU5501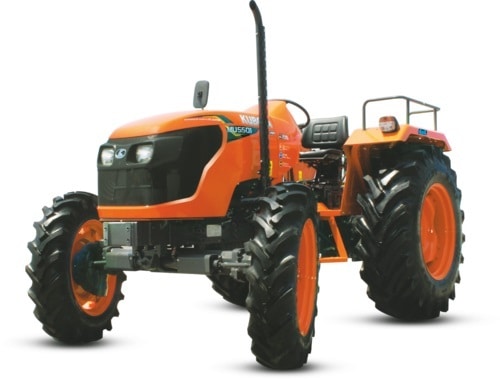 When you are looking for a powerful Kubota model that wins on durability, then here is the deal. For instance, this machine comes with a powerful four-cylinder, 2434 cc engine which supports 2300 RPM.
For better performance, these tractors feature a liquid-cooled system and a dry, dual-element air filter. The designer fitted it with oil-immersed brakes to ensure long life, which requires fewer maintenance procedures. 
A forward speed can achieve 3 to 31 km/h, and reverse makes 5 to 13 km/hr. Typically, this tractor supports a 2100 lift capacity to make it suitable for multiple applications as per specifications.
Also, this product uses a power steering, which is comfortable for the operator to handle easily. Another useful feature is a 65-liter fuel tank for efficient fuel delivery over long periods without stoppage.
Notably, these tractors support both 2 and 4 wheel drives. A double clutch makes this tractor simple to operate on any agricultural farm. This tractor is reliable for different tasks because it has a high torque backing. Also, it uses a 12V battery and has a mobile charger to serve your mobile phone needs.  
Pros
Oil-immersed brakes offer consistent service for longer periods with minimal maintenance

65-liter fuel tanks ensure high fuel-efficiency without regular stops 

A liquid-cooled system is beneficial to ensure optimal engine performance

Powerful steering for comfortable handling while operating this tractor

Supports both 2 and 4 wheel drive options for an added convenience  
Cons
Kubota NeoStar A211N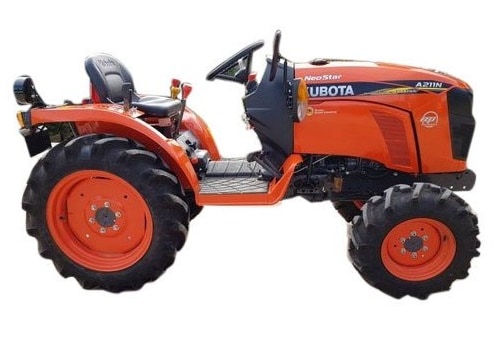 Kubota NeoStar has a combination of a 1000cc engine, three cylinders, and 21 HP to offer dependable service to the user.
Its engine has a rating of 2600 RPM, which is enough for your farming needs. Typically, this engine enjoys a liquid cooling system and dry air filter. This model uses oil-immersed brakes, which offer a high grip and low slippage. The good news is it has a 750 hydraulic lifting capacity with an economic mileage in every field. 
Furthermore, this tractor consists of a single plate clutch for providing smooth and easy functioning. It has a manual steering option to allow for easy control and fast response.
Kubota NeoStar promotes user driving comfort due to its advanced 9 forward and 3 reverse gearboxes. The forward speed runs at a maximum speed of 18.6km/h. 
Kubota NeoStar has a total weight of 600 kg and a wheelbase of 1560mm. As a four-wheel-drive vehicle, it can cruise over different terrains effortlessly. A 23-liter tank capacity can serve you for a longer duration before the next refill. Finally, this tractor has generous warranty coverage. 
Pros
It uses oil-immersed brakes, which offers high grip and low slippage to improve your stopping power

It has a hydraulic lifting capacity of 750kg, which is convenient for any complicated task

A single dry plate clutch necessary for providing easy and smooth functioning

It uses manual steering, which is easy to control and provides a quick response in all situations

Exceptional 9 forward and 3 reverse gearboxes offer comfort to enhance your driving experience 
Cons
Kubota NeoStar B2441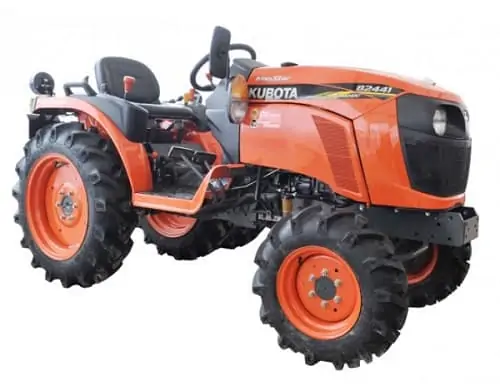 Kubota NeoStar B2441 has a 1123cc engine with 2600 RPM and is fitted with three cylinders. This tractor can handle different equipment such as a cultivator and a re-plow.
Its power steering is responsible for fast response and effortless control. A 750kg lifting capacity is suitable for different heavy-duty applications. This tractor has an effective liquid cooling system that overcomes any engine overheating when subjected to long operations hours. 
Another useful feature is a dry single dry plate, which is ideal for agricultural applications because it offers longer life. This 24HP tractor uses three dry air filters, supported by a great driving mechanism involving nine forward gears and their reserve gears. As if that is not enough, this tractor uses a 23-liter fuel capacity that allows one to complete different tasks efficiently. 
This tractor can cover a maximum forward speed of 19.8km/h. The immersed oils braking system offers a good grip as you use it for slowing down your vehicle. Additionally, it has a four-wheel-drive system, which is best for moving over farms without much effort. A five-year warranty facilitates repairs and replacements within the stipulated period.
Pros
Has a rigid front axle, which offers versatility when running in different crops and row widths

A 23-liter capacity is sufficient for one to complete a wide range of tasks

A single dry clutch makes this tractor operate in any agricultural situation easily

The liquid-cooled engine does not overheat when exposed to longer hours of operation

Supports multi-purpose use as one can fit cultivator or a reverse plow
Cons
Kubota L3408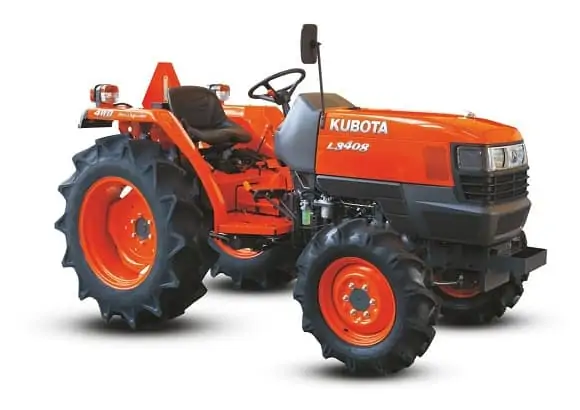 Next on our list is Kubota L3408 model, which has a 1647cc engine with a 2700 RPM. Like other models, it enjoys a water cooling system hence chances of overheating remains minimal.
This product has a 906 kg lifting capacity, which supports different implements such as a planter, plow, and cultivator. It is a multi-purpose tractor for both commercial and agricultural applications. 
The presence of a single friction plate clutch becomes useful when using other agricultural implements. It comes with a 34 liters diesel tank, which serves one for a long period. Another great feature is power steering, which is beneficial to the user for easy and smooth operations. Kubota L3408 is 1380kg and supports a four-wheel-drive design. 
Kubota L3408 uses 8 forward and 4 reverse gears to enhance its movements. A wet disk brake helps this tractor to stop easily. It has a maximum forward speed of 22.2 km/h, and it comes with a three-year warranty. As a 35 HP machine, it enjoys a robust design with superior stability to meet different user needs.
Pros
Has wet brake discs to assist the tractor is slowing down or when stopping

Water-cooled system to prevents the engine from overheating and causing damages

Equipped with a power steering system to allow the driver to operate it easily

A 906kg hydraulic lifting capacity makes it suitable for different applications such as cultivators and plows

A 34-liter diesel tank capacity can serve for a longer period 
Cons 
A three-year warranty is short when compared to similar models 
Kubota MU4501 ad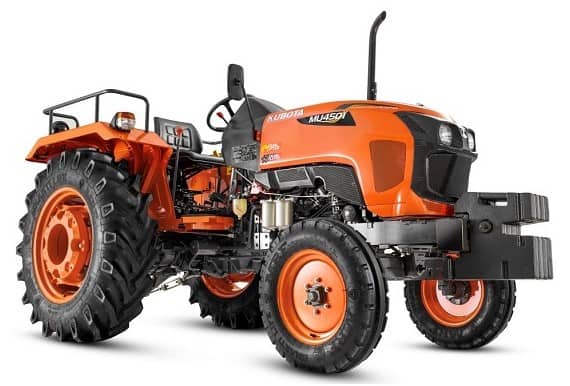 Kubota MU4501 is a superb two-wheel-drive model that runs on a 2434cc engine capacity. Also, with four cylinders, it can generate 2500 RPM.
The manufacturer made it with advanced liquid-cooling technology to facilitate suitable temperatures for the engine. A dry-type air filter places it among the most powerful tractors in the 45 HP category. There is a dual-clutch which provides easy and smooth functioning. 
Kubota MU4501 comes with a hydraulic double-acting power steering for fast response and easy control. Its disc brakes have an oil-immersed design for maintaining great grip and reducing chances of slippage. One distinguishing factor is it has a 1640kg lifting capacity to support various implements like plow and planters. 
This tractor is suitable for commercial and agricultural use. It has eight forward and four reverse gearboxes featuring a maximum forward speed of 30.8km/H and 13km/h reverse speed.
An entire wheelbase is 1990mm with a total product weight of 1850kg. A 60-liter capacity fuel tank can hold for long sessions before refilling it again. A five-year warranty provides enough services to the buyer. 
Pros
Powerful engine with a high capacity necessary for heavy-duty applications 

A 1640kg hydraulic lifting capacity supports multiple applications without challenges

Has dual-clutch system which is suitable for smooth and easy functioning

Elaborate gearboxes provide adequate speed for both forward and reverse needs

Uses advanced water-cooling system which overcomes engine overheating and further damages
Cons
It supports two-wheel-drive unlike other models which run on a four-wheel drive

It is a costly option
Kubota B2420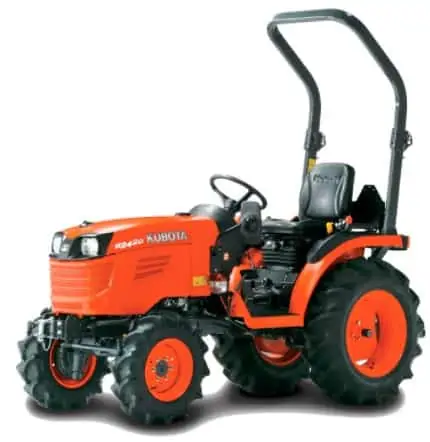 Kubota B2420 is a power-packed machine equipped with unique and advanced features to support any productive work.
Furthermore, it can be a perfect choice when looking for excellent prices with a performance ratio. First of all, this tractor runs on a 1123cc engine with three cylinders. This engine produces 2600 RPM and has a 24 HP rating to support various farming implements. 
This tractor uses a dry clutch system for better functioning in the farms. For effective braking, the designer used dry wet disc brakes, which promote less slippage.
Many users treasure comfortable handling, and for that reason, Kubota has an integral type of power system hence user friendly. By using a liquid-cooled system, your engine will not overheat and cause further complications such as wear and leakages.  
Last but not least, this tractor uses a 26-liter fuel capacity that offers high fuel efficiency, convenient for both medium and large tasks.
A 615kg lifting capacity is great for heavy-duty tasks. Not to mention, being a four-wheel-drive machine, it can move on any terrain without challenges. The user can make use of nine forward and three reverse gear to serve various needs. 
Pros
Has an adjustable seat suit the various need of different users without causing strain

Effective braking system to enhance your stopping power while on the move

Integral type Power Steering performs well to promote a more comfortable handling 

26-liter fuel holding capacity maintains high fuel efficiency 

Suitable lifting capacity supports heavy-duty applications 
Cons
Tires tend to come out of the rim 
Kubota L4508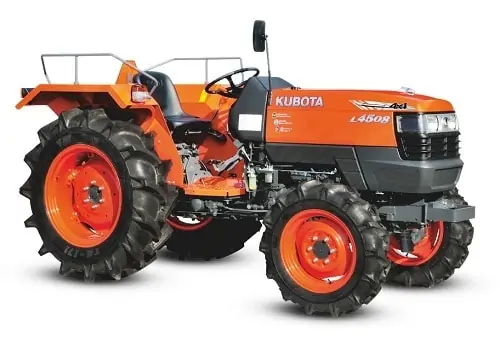 Kubota L4508 wraps up our list of modern tractors with advanced features to facilitate better delivery. This tractor offers a high level of versatility by promoting more than 30 applications of loader and dozer.
A lift capacity of 1300kg is decent for multiple agricultural functions. It has a backing four-cylinder engine that generates an RPM of 2600.
While driving this tractor, you may not worry about slowing down or stopping since oil-immersed disc braking systems provide sufficient grip to make them functional.
A 42-liter tank capacity ensures a consistent supply of fuel when working in long sessions without stopping. This tractor also uses a responsive power steering system and helps a driver stay in control of the process.
This machine makes use of a liquid-cooled system to keep the engine in the right state for effective delivery. Furthermore, it has four reverse and eight forward gears where a maximum forward speed is 28km/h while maximum reverse speed is 10km/h. As a four-wheel-drive vehicle, it can cruise different terrains comfortably.
Pros
One enjoys a powerful braking system that does not disappoint when put to use

It has a decent lifting capacity to make it ideal for different applications 

A single dry clutch-type offers smooth operations to meet your demands 

42-liter tank capacity is convenient for hold more fuel over long periods

It comes with five year warranty period 
Cons
It is the most expensive option on our list
FAQs
Question: Who owns Kubota? 
Answer: Kubota Corporation came into being in 1979 as a manufacturer of cast iron water pipes. By 1900, this corporation raised its ambition to manufacture powered equipment to support the different needs of the consumers. Since then, this company has been developing other models with unique features to serve various tasks well. 
Question: How long can a Kubota tractor serve you? 
Answer: If you maintain Kubota tractors well, they can serve you for more than 5000 hours. The trick lies in performing the best maintenance practices to uphold its functionality. If you fail to maintain it as expected, any mode can serve you for less than 2000 hours and is a great loss to you. 
Question: Which company makes Kubota engines? 
Answer: Kubota is the sole manufacturer of its engines. It manufactures multi-cylinder machines supported by liquid cooling to overcome the challenges of overheating. Kubota Engine America Corporation (KEA) also oversees the sale of these engines and other service parts. You should order one for this company if you want to replace yours due to compatibility issues.
Question: Can one buy a second-hand Kubota tractor? 
Answer: Indeed, yes. Purchasing a secondhand Kubota tractor is fine as long as it is in the right form. For instance, check and inspect its mileage to agree with your expectations. Two, all its moving parts should be in sound condition to support long services. 
Bottom-line 
Kubota tractors are not new in the market as they compete well with other world-leading brands. Locating the right model is not easy as the company produces different models to serve multiple purposes. You are lucky that this piece captured better models to meet your needs accordingly. 
Our top choice is Kubota MU5501. It has a 65-liter fuel tank, which ensures high fuel-efficient without regular stops. Besides, this tractor has a liquid-cooled system, which is beneficial to ensure optimal engine performance. A
nother unique feature is that it runs on both 2 and 4 wheel drive options for an added convenience. Lastly, Oil-immersed brakes offer consistent service for longer periods with minimal maintenance. 
Read More