Latest posts by Tractor Logic Team
(see all)
John Deere tractors seem to have everything that people look for in a tractor and they have become important farming assets that many cannot get enough of.
From the maintenance of landscape to the harvesting of crops, these tractors have earned a name for the array of tasks they can perform. Also, the ease with which these machines can be handled and the excellent performance they depict make them the best machines to have.
This article looks at the top six John Deere tractor models that have made differences in agriculture. However, before that, it is important to consider certain aspects of a tractor. 
Factors to consider when buying a tractor
The first thing that comes to mind when a tractor is mentioned in the farm or the garden since this is where the tractors are mostly used.
Although the market has provided all kinds of tractors, only the best work efficiently. The specifications of a machine will determine how good it will be when it is put to use. Consider the list of important features you should look for when purchasing a Deere tractor.
Engine
Different tractors have different types of engines. An engine is considered to be the heart of a tractor for it determines the power the tractor has to perform effectively.
Different engines have different strengths and horsepower is used to measure the strength in each engine. The higher the horsepower, the powerful the engine will be. A powerful engine should therefore top your priority list since it will have a tremendous influence on the farm or garden work.
Transmission
Power transfer to the engine is made possible through transmission and it determines the performance of a tractor. Tractors come with either hydrostatic transmission or manual-gear-driven transmissions.
As such, hydrostatic transmissions are the most preferred because they are efficient at getting the work done and they make it easier to drive and control the tractors. On the other hand, manual-gear-driven transmissions require a physical shift of gears which makes it hard to handle them especially if you are used to tractors that have foot pedals. 
Tires
The tires you choose for your tractor should be excellent for everyday work. This means they should have a lot of traction to ensure the performance is excellent in both dirt and muddy fields.
Although tires are usually filled with air, more value can be added to them by filling them with fluids like windshield washer or automotive antifreeze. This is advantageous for a better grip and heavier tires for the machine to perform tremendously. 
Size of garden or farm
It is a fact: the size of the garden or farm will determine the type of tractor you will buy. The plowing or mowing tasks keep increasing and you do not want to be caught up especially when you have a smaller tractor that will not get the job done within a short time.
This may lead to a pile of tasks that need to be attended to. It is therefore advisable to choose a tractor that can serve you when you have a small farm as well as when you increase the farm size later on. This will save you much more since you will not need to upgrade to a bigger tractor. 
Hitches
In most cases, when a tractor is performing an unabridged bunch of farm tasks, equipment is used alongside it for proficiency purposes.
This equipment gets attached to the tractor via a hitch. The hitch attachments have forklifts and front-end loaders that raise and lower the attached equipment, making it easier for the equipment to perform efficiently. The hitches, especially the three-point hitches, are a vital part of a tractor that adds value and allows for the work to be accomplished effectively. 
Hydraulics
As you work with your tractor, you will find that its work comprises turning and lifting. This is made possible by the hydraulic system which produces energy for these activities. The transfer of heat and lubrication is provided by the hydraulic fluid.
The hydraulics, therefore, provide the implements and attachments with enough power for the greater overall productivity of the tractor. The optimal performance of hydraulics should be considered before you buy the tractor. 
The Best John Deere Tractor Models
Compact tractors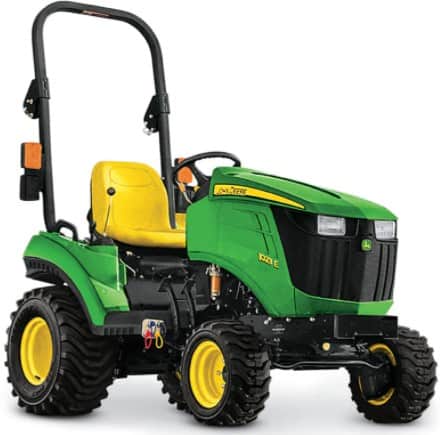 Compact tractors are a collection of tractors, from 1 to 4 series, which are great assets in many homes for excellent results delivery. John Deere firm designs these tractors with the users in mind.
Whether you want to mow, till, plow, or remove ice from the pathways, the answer lies on the tractor you want to use.
They are made available for you to purchase, sit behind the wheel, get the machine roaring, and enjoy an excellent experience as the machine gets the work done within a short time. That is what the John Deere machine consists of; excellent performance.
Deere compact tractors come with everything as a package; standard 4-wheel drive, twin touch hydrostatic forward and reverse pedals, controls which are user-friendly, among others.
This makes the compact tractors well-equipped, which is meant to provide you with an awesome experience and get the job done easily and within a short time.
Additionally, operating the machine is meant to be a convenient task for the user. The compatibility of the hitch is rapid, the drive-over mower deck can connect automatically, and the quick-park loader is easy to attach. All these can be done conveniently and at your own time, which saves you extra money for third party services. 
Deere compact tractors have always stood out because they have a great resale value, their maintenance costs are fair, and their dealers are scattered all over the world such that you can get customer support without having to wait for weeks to get the tractor attended to.
This means the practical applications for the tractor are many and they come with a long list of advantages to the owner. Therefore, whether you have a taste for the 1-series, 2-series, 3-series, or 4-series, a compact tractor will perform beyond expectations since this is what it was intended for. 
Pros
Hydraulic flow rates are high

Its frame and wheelbase is large which makes it possible for implements of the same size to be used

High traction due to its large size

Maneuvers well on plots since it is not too large
Cons
Powerful engine leading to high fuel consumption

Low maneuverability
Utility tractor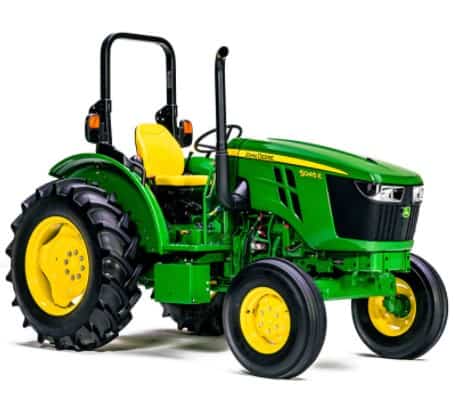 One of the reasons that have made utility tractors popular among many people is their features which enable them to do more and be efficient in the tasks that are assigned to them.
For instance, their engine has more power, which means more work will be done within a short time. That is not all; the large frame size, high pressure, and hydraulic flow rates are some of the aspects that make it stand out. 
The general efficiency of this tractor is also made possible by the electronic wizardly which is regularly adjusted and which provides the user with improved output control, ability to consume fuel and maneuver well as it does the task assigned to it.
For instance, within a push of a joystick button or use of a computer, the user can clutch, shift and change gear without requiring an extra hand to make it easier.
The wheelbase and tire size of a utility tractor is large, which makes it easier for it to handle more power and increase the rate of hydraulic flow.
It is also durable since it is made from heavy-duty construction materials, a feature that allows it to do more for decades. This machine is meant for people who have less time on their hands and have more work that needs to be handled since the machine is powerful and it reliable in its performance.
Therefore, all that is required is to sit comfortably, start the engine, relax and let the machine do what it does best, which is usually highly rated in delivering the expected results. 
Pros
Powerful engine

Pressure and the hydraulic flow rate is high

Increased output control

Durable due to its heavy-duty construction

Can handle very large implements

Increased operator platform space
Cons
Large engine which leads to more fuel consumption

Not suitable for some plots due to its large size and turning radius 

Large size and weight may cause damage to turf
Track Tractors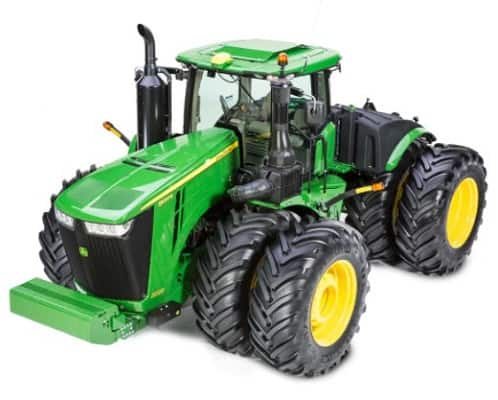 Investing wisely means choosing assets that will suit your needs like John Deere track tractors. This is because tract tractors are efficient when working in various conditions.
For instance, you do not have to postpone working until the soil gets dry since the tract tractor provides a good grip on wet soil, making it easier for you to work and get the job done quickly. Besides, they have a good impact on the soil since they are designed to work on different soils and they do not leave ruts.
Also, they maneuver well on the fields due to their ability to zero-turn instantly, which makes it possible to reach every part of the field that needs to be attended to.
When buying a John Deere track tractor, every detail matters. For example, the fuel efficiency of the tract tractor is good especially when it is plowing or tilling. This means more work will be done using less fuel. Also, efficiency is observed when working on wet grounds. This means the performance of this tractor is good when it is roaring and its work can be seen from far.
The distribution of the weight of a tracked tractor is excellent. This will benefit you greatly when you are working and it ensures the tractor does not cause compaction on the soil.
The fact that it can be used with implements that are easy to hook up, is an assurance that it can do various kinds of tasks on your farm effectively. The tractor roars to life when working on muddy or wet grounds, close quarters, and tiny spaces, making the whole working experience to be exciting.
Pros
Rides smoothly on rough grounds 

Floatation is good

Implement hookup is easy

Tires cannot flatten.

Maneuvers well

More stable on hillsides
Cons
Tread spacing cannot be changed

The upfront cost is high

They vibrate or ride rough on bumpy fields
Specialty tractors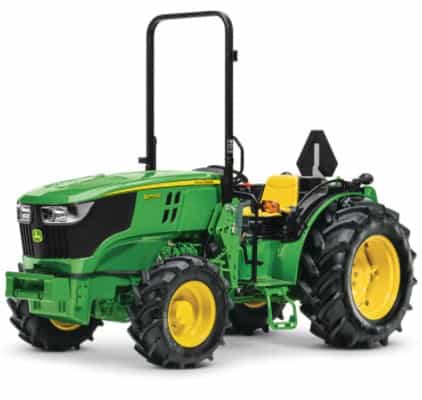 The John Deere specialty tractor was designed to keep up with the growing need for specific tractors in the fields. The vineyard and orchard farms were calling and the specialty tractors were born to satisfy that need.
They are designed to fit into the narrow rows of these crops when getting the job done. They are also quite versatile and using them is easy. This means that they do not require professional skills to start and drive them around as the tasks are done.
The implement requirements needed in those vineyards, orchards, and other high-value crop farms are met by this tractor since it is narrow and the rate of its hydraulic flow is higher than that of certain tractors for efficiency purposes. It does not destroy the crop, bruise it, uproot or knock it off when it comes into contact with it, which can be a loss to the farmer. 
John Deere is known to give the customers what they need when they need it. This means the company gets feedback and improves on its tractors and what is brought in the end is a masterpiece that farmers love working with.
For instance, they consider the comfortability of a farmer as a high priority, and therefore the specialty tractor is known to be comfortable when someone is behind the wheel working away hence ensuring they work for a long period without getting fatigued.
Also, the high adaptability of the tractor and the highly versatile transmissions make it possible to work on simple and rigorous tasks and environments. 
Pros
Easy to use 

Better versatility 

Higher horsepower 

Fit well on the narrow rows of the orchards and vineyards 

High versatile transmissions

Works on any type of environment
Cons
Speeds are slow on transport

Vibrates on rough surfaces

Additional cleaning due to debris or trash build-up
Row Crop Tractor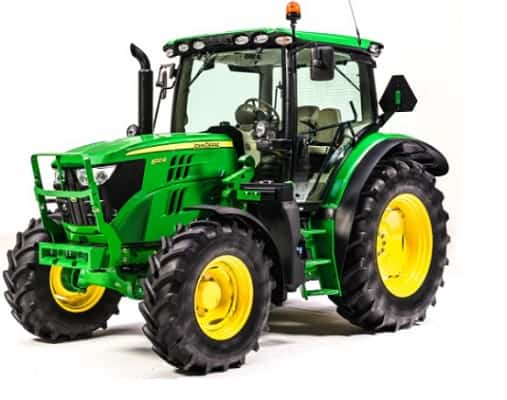 A row crop tractor is also one of John Deere's innovations which were designed to keep up with the high demand for tractors that can work on large tracts of land and fit the needs of those farms.
For example, a row crop machine can easily control weeds, harrow, plow, level, harvest, work with heavy implements, and fulfill more farm operations. This means the main work is to grow and cultivate the crops which are in rows, a task that some tractors cannot undertake which makes the row crop tractor the most suitable for the row crops.
Row crop is not a complicated tractor, which makes it easier to handle. It is also highly versatile and reliable and it is designed to withstand tasks that seem demanding to anyone.
It is not highly-priced, which sets it apart from others. Besides, the transmission systems are durable, the operator's cab is comfortable, and the hydraulic system is efficient which makes its performance go beyond the expectation of the users.  
A row crop tractor that performs different operations needs to be durable for it to keep up with the tasks it is designed for, be efficient and effective while carrying out those activities, and serve for a prolonged period. Also, its output is more improved due to the attachments that make it possible to plow and spray the crops.
It is a multi-purpose tractor that performs different tasks which leads to more productivity of the farm. It is perfect for growing crops and cultivating them, which makes the tractor an asset that row crop farmers should not miss to have. 
Pros
Easy attachment and detachment of implements

Good row spacing

Power lift provision

Easy to use

Highly versatile

Powerful engine

Sturdy construction
Cons
High fuel use due to its powerful engine

Large size and weight which may lead to compaction 
4WD tractors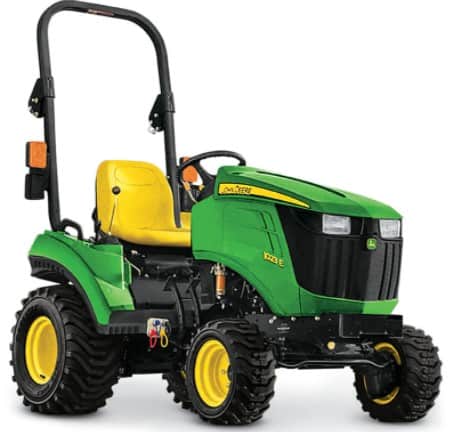 Modern and progressive farmers have a reason to smile for there is a tractor designed to fit their needs. The Four-Wheel Drive (4WD) tractor is a machine that has been designed to fit the needs of these farmers.
It tops the list of the best John Deere tractors because it is efficient and has improved performance in the fields. The transmission supplies power to all the four wheels of the tractor, an act that reduces the possibility of spillage and enables it to be outstanding in getting the job done.
The tractor is also pulled forward due to the action of the front wheels and the rear wheels working together to give it better traction. 
The condition of the area does not matter where the 4WD tractor is concerned. This machine can work in bumpy areas, terrains, and slopes, wet and dry conditions, and it is not used with cage wheels since it is self-sufficient.
It is highly stable due to its front axle which is heavy and therefore front-lifting is reduced especially when the loads are heavy.
The heavy-duty materials that are used to make this tractor are vital for durability making it possible to be used for a long time. The front and rear axle units share the load, an aspect that lengthens the transmission system of the 4WD tractor. 
The productivity of the farms is usually enhanced when the 4WD tractors are used since they can handle heavy workloads and control implements that seem too heavy.
Generally, a 4WD tractor is considered to be steadier, has high versatility since the weight of the tractor is distributed among the wheels making the work more effective, and has an excellent performance. It is therefore worth the premium price it comes with. 
Pros
Great performance due to weight distribution among the front and rear wheels

Longer life of the transmission system

Highly durable

Highly reliable

Stable and versatile

More fuel-efficient

Can handle heavy workloads
Cons
More expensive

Slow speeds on transport
Recommendation
Among the Deere tractors listed above, I would recommend a 4WD tractor. It is beneficial to add this machine to your collection because it is fuel-efficient, handles loads of work, provides the power needed to pull loads that are too heavy when the speed is low, and it can maneuver easily on terrains and other areas that are bumpy.
It is also highly versatile and its transmission system can last long since the power needed to pull the tractor forward is transmitted to the front and rear wheels. 
Benefits of Using a John Deere Tractors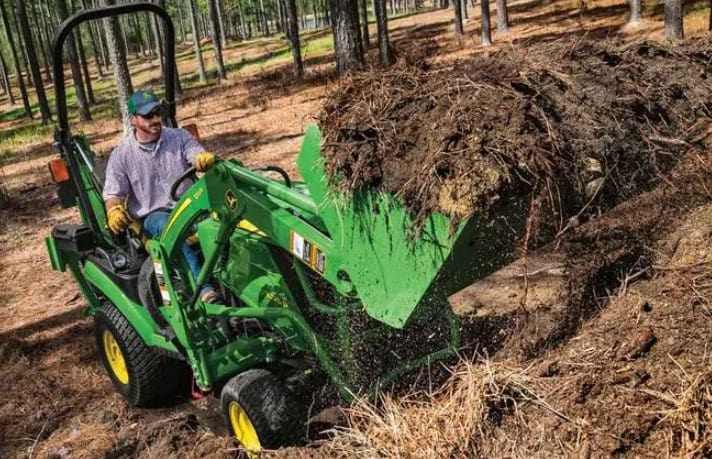 Many aspects make John Deere tractors to be top rated the world over. Every day people are getting more and more reasons to continue being loyal customers to John Deere tractors. The following are some of the benefits of Deere tractors.
Versatility
Deere tractors are known to be highly versatile. They accomplish a wide range of tasks within a short time, which enhances their productivity.
These tasks include mowing, cultivating, tilling, spraying, harvesting, among others which are performed easily. Besides, the tractors can perform more tedious tasks with the help of equipment such as front loaders and backhoes, which can be attached and detached easily. If you have a Deere tractor, you do not need to have much equipment since one tractor can do it all. 
Ease of use
Operating a Deere tractor is easy and smooth. For instance, the transmission systems of some of the latest models have operated automatically which makes it easier to use the machine.
Besides, turning them is not a hard task since they are accompanied by power steering making the whole process easy. Your safety is also considered and the weariness reduced due to the presence of exclusive shift control and responsive transmission which is automated. 
Durability and powerful engines
Deere tractors are designed to access areas that seem inaccessible and perform a variety of tasks. For this reason, they are both powerful and durable for excellent performance at all times.
The engine power is undebatable which provides them with enough energy to pull through when the workload is heavy and when the areas seem impassable.  
Exceptional performance
One of the reasons Deere tractors have stood out for centuries now is due to their exceptional performance. One tractor is designed to handle many tasks efficiently which increases the productivity of the farms and provides a comfortable environment where anyone can easily thrive.
Also, the fact that it has been consistent at producing what the people require makes it the right company to choose your tractor from.
FAQs
Question: What is the difference between Deere 3E and the 3R series tractors?
Answer: There are several differences between 3E and 3R series tractors some of which include the cost. The E series is cheaper than 3R, a high-end tractor, and therefore if you want a tractor that can do more, the R series is the best between the two.

This is because the R series has some features which the E series does not have. Also, the R series is more powerful, the base of the wheel where the E series is about 60 inches while the R series is longer than that, and the FEL of the E series is permanently mounted while that of the R series has a feature that detaches it. 
Question: Are John Deere tractors reliable?
Answer: Yes, this is an old marketing line that was used on John Deere products and it is true. John Deere tractors have been rated excellently for decades now.

The tractors' performance has been outstanding and they are reliable, something that has exceeded the expectation of the users. From mowing to plowing tractors, Deere tractors lift and turn, making the experience exciting and delivering the intended results. 
Question: What type of grease should be used on John Deere tractors?
Answer: John Deere produces both tractors and grease for their customers. Their grease, SD Polyurea grease, is authentic and produced for several purposes including when the temperatures are high or extreme.

The grease is durable and it is suited for any type of tractor, automobile, truck, among others, for a prolonged period of performance time. The grease lubricates and protects plain and wheel bearings, ball and universal joints, systems of suspension, and others. 
Question: How long can a Deere tractor battery last?
Answer: Deere produces batteries for every need. These include the standard and heavy-duty performance batteries which in most cases last for more than six years especially if they are regularly charged up, the water levels are checked and distilled water is added to keep up with the required levels, the charge is maintained, and they are dusted off.

These batteries provide reliable services due to their durability and they deliver improved energy that is required to keep your machine up and running. Their starting performance is exceptional and the charge and discharge durability are high, even after the engine has long stopped.
Question: How do Deere tractors compare with others?
Answer: Most people prefer Deere tractors to other brands that provide the same because of the proven reliability, the fact that their dealers are all over to give support whenever it is required, and the availability of spare parts. Besides, the company is way ahead of time.

For instance, it has provided the customers with tractors with polymer panels in comparison to other companies that have metal panels. The high-strength plastics in compact and subcompact tractors have outdone the metals, something that has made them more popular to people than the tractors from other brands.
Conclusion
There are different models of John Deere tractors for different kinds of tasks. The features of each may differ slightly but the work done by any of the models is commendable.
Also, the cost of each model may differ one from another. What stands out about the Deere tractors is that they are the most reliable tractors you can ever find. The above list of tractors provides you with a detailed view of the best models that are available on the market today and what to expect from each of them.
Read More: