Latest posts by Tractor Logic Team
(see all)
Do you ever wonder which Massey Ferguson tractor models are the best and why they're popular with farmers? It could be they're a trusted brand with years of research and development to back up their products, or farmers appreciate all the features they possess.
Depending on your requirements, Massey Ferguson tractors can do almost every job on a farm. They're fantastic at plowing, planting, weeding, and pulling heavy trailers. They can also pull off other small jobs around the property like mowing the grass on your lawn.
So, how do you know which model to go for? It can be tricky finding the right one because there are so many models for sale. Without the correct information, it's easy to end up with the wrong one.
To find out which Massey Ferguson tractor models are the best, stick around and read our comprehensive guide.
What Types of Massey Ferguson Tractors Are There?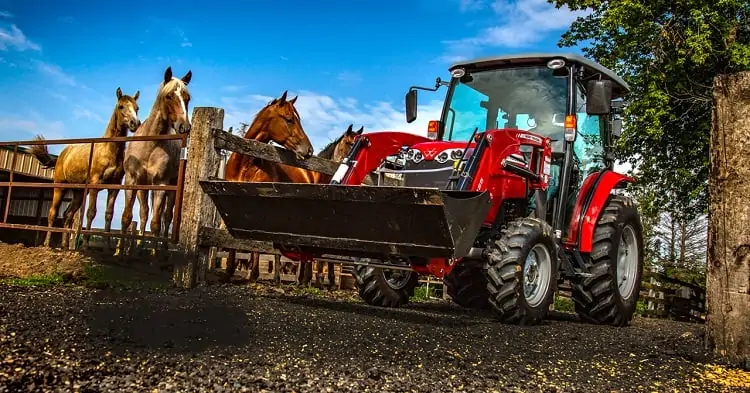 You don't want to end up with a tractor so large that it's a bit of an overkill for the intended jobs. This is why Massey Ferguson tractors are available in different types and sizes.
They acknowledge not all farms are of equal size and to remedy that, each tractor model designed has been tailored to meet the needs of small, medium, and large-scale farm operations. Below, we will mention the tractor model types associated with Massey Ferguson.
Sub-Compact Tractors
Sub-compact tractors are the smallest of the Massey Ferguson range and also the least powerful. Despite the small size, their popularity is unmatched across the range of tractor models.
Massey Ferguson roll-off plenty of the GC1700 series of sub-compact tractors from the assembly line each year. For an agricultural machine to stand out from the competition, it must be something to do with quality, a factor the Massey Ferguson has in abundance.
GC1700 sub-compact tractors from Massey Ferguson have a rated engine horsepower of between 22.5 to 24 HP. They have a rear lift capacity of 300 kilograms and the loader can carry up to 395 kilograms with the loader. Tractor attachments are widely available for this class of tractors, giving them the versatility to perform different kinds of jobs around a farm.
Compact Tractors
Compact tractors are designed to carry out a wide range of tasks that may be too much for the smaller sub-compact models. Usually, they're applied to light work around the farms where they come in handy due to the flexibility of the machine. Because it's easily maneuverable and sits high off the ground, it can be used for fruit picking in orchards. In this case, the user can sit on the tractor and pick the fruits as they go along.
Massey Ferguson compact tractors are available with an engine power of between 24 to 57 horsepower. The rear lift capacity is a significant increase from the smaller GC1700 series. It can lift from between 1,598 to 2,425 pounds depending on which model of MF compact tractor you choose.
Most tractors in this category are driven with either manual gear or a Hydrostatic oil drive. With the Massey Ferguson, you have the option of an 8×8 Synchro-Shuttle or a 3-Range Hydrostatic transmission.
Utility Tractors
If you can't afford several machines to carry out specific tasks around your farm, the best option is to invest in a utility tractor. As the name suggests, utility tractors are general-purpose machines that are designed to handle jobs such as loader work, plowing, and beyond.
This category of tractors is one of the fastest-growing as more farmers demand a machine that can undertake many applications.
You have the option of selecting from 3 models of Massey Ferguson utility tractors, with each specified differently to narrow down the tasks it can perform. Power levels are available from 49 to 100 HP on the most powerful model. Some of the models are already equipped with attachments like bale spears and bucket teeth.
Mid-Range Tractors
The Massey Ferguson Mid-Range tractors bring power and size to your farm fields. These machines have the strength and the muscle to pull off any job thrown at them in any kind of operation. With one of the highest hydraulic flow rates in its class, the Massey Ferguson beats most of the competition by as much as 50 percent. You are left with adequate power to run both front-end loaders and rear-mounted equipment.
As we've mentioned, power is not an issue with Massey Ferguson Mid-Range tractors. You have the choice of 5 model series from the category. Power output is from a low of 110 to 160 horsepower. To put all that power into good use, the tractor is equipped with 16 forward and 16 reverse gears, all of which can be selected without clutching.
High Horsepower Row Crop Tractors
Row crop tractors are the ones used on large-scale farms to facilitate almost every heavy-duty farm work required. This category of tractors can easily push or pull very heavy agricultural machinery. Its main job is to perform most of the planting activities like plowing, harrowing, leveling, and weed control.
These tractors have an excellent ground clearance to keep the bottom from scraping the plants and the steering has been tuned to make it easy to make tight turns for such a big machine.
Once again, Massey Ferguson has specced their Row Crop nicely with plenty of high horsepower across the range. You can have one with 150 horsepower, with the most powerful version topping out at 370 horsepower.
What Factors Should You Consider Before Buying A Tractor?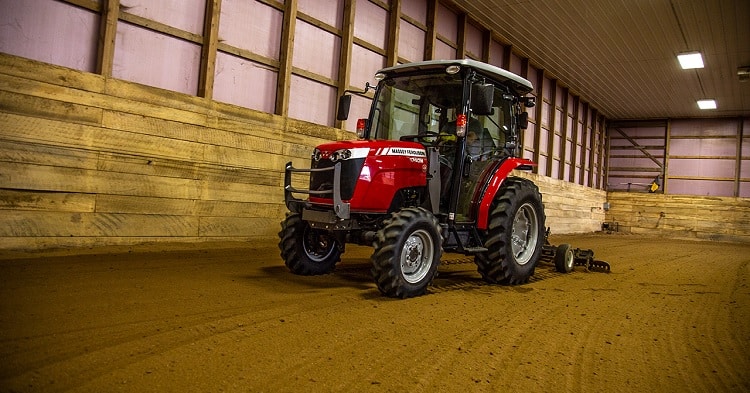 If you're planning to buy a tractor, then you already know it's one of the most significant investments you will make on your farm. Having access to information that will guide you on how to choose the right model will save you from getting a machine you don't need. 
Here are key factors to consider when buying a tractor.
Size of the farm
What is the size of your farm? This is one of the foremost questions you have to answer before taking the plunge and buying a new tractor. Knowing the acreage under farming will help you choose a tractor that fits the job.
A Row Crop tractor will be too much machinery for a small farm and in the same breath, a sub-compact tractor will not handle the heavy-duty work that may be required in a large-scale farm.
Budget
Tractors like most of the other farming machinery are priced differently across the various types available. The most powerful and biggest tractors are usually the most expensive and the price drops as they go down in size and engine power.
Another factor that will affect the price is the number of attachments already fitted on the tractor. A model that is fitted with equipment like a front-loader will cost more than the same version of the tractor that isn't kitted with any accessories.
Open station or enclosed cabin
Farming is an outdoor activity and many farmers prefer working in the natural airy environment and enjoy the scent of the soil or the plants. If you're that sort of person, go for an open-top tractor.
And if you prefer a bit of shade, get a canopy that will protect you from the sun but still maintain the open nature of the tractor. On the flip side, a tractor with a cab keeps you warm and dry on rainy days. However, you may need climate control which is going to use less horsepower to operate.
Personal use or commercial
For working around your farm and using your tractor to perform a few chores, sticking to the general guidelines should be enough to get you the right size and type of tractor. However, if you plan to lease it out to do work for hire, selecting a tractor that is one size larger than what you would've used for personal use is recommended. A bigger tractor gives you more work opportunities when you hire it out.
Power take-off
Also known as the PTO, it's a power shaft generally located on the rear of a tractor to provide the energy needed to operate an attachment or implement. This energy is pulled from the engine and is converted to hydraulic pressure through the PTO shaft. You can select from two options; live or an independent PTO.
A live PTO has the shafts spinning whenever the tractor is running and stops when the engine is shut down. Independent PTO runs independent from the tractor's transmission and will continue working even if you stop or back up. 
Best 6 Massey Ferguson Tractor Models
Massey Ferguson was founded in 1953 and since its inception, the company has produced tractor models that continue to excel in farms around the world. Now produced by AGCO, it's one of the most recognizable brands of tractors in most of the world and that is a testament to the quality of machines they produce. Here is a list of the best Massey Ferguson models you will find on the market today.
Massey Ferguson 2850M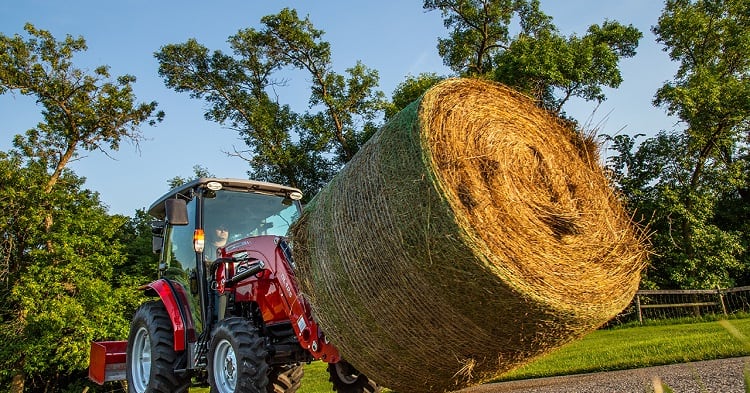 The Massey Ferguson 2850M is from the family of premium compact tractors. The tractor is four-wheel-drive to give it plenty of traction when driving in the muck around the farm.
Massey Ferguson has built a reputation over the years and they certainly live up to it in the 2850M. You get a few features that have been updated to make it on the best compact tractors you can buy.
It's powered by a 2.43-liter four-cylinder Iseki engine that has been turbocharged to produce 48.8 engine horsepower, that is fed through a 12×12 power shuttle or 3-range hydrostatic transmission.
What you get is responsive power for all farm applications to keep you working even when the conditions are most demanding. Despite the enhanced horsepower, the engine runs clean to meet Tier IV emission standards.
Other than engine performance, comfort is one of the main highlights of the 2850M and it shines all through to keep the user comfortable even in very rough terrain.
Features
2.43-liter four-cylinder turbocharged engine

12×12 power shuttle or 3-Range hydrostatic transmission

38.1 PTO horsepower

Cab or open-station configurations

3.086 pound rear lift capacity

Power shuttle control lever

12.6 gallons per minute hydraulic output
Pros
Plenty of power from a small engine

Air-ride seats to keep you comfortable on long days

Available in both cab and open station configurations

Air condition to control the cab's climate

Cruise control to maintain preferred speed

Can be equipped with plenty of attachments and implements
Cons
Not the most powerful Massey Ferguson compact tractor

Engine performance at high altitude may suffer
Massey Ferguson 5711S

This is one of the best choices you can make when you need an all-rounder tractor that can do any job. Coming from the 5700S series that once won the Agritechnica Tractor of the Year for utility tractors, the 5711S embodies the same spirit of excellence to perform various tasks and keep most of your farm activities moving with few complications.
Power for the 5711S comes from a 4.4-liter AGCO four-cylinder engine that runs clean to meet stringent emissions regulations. Instead of a Diesel Particulate Filter, it uses selective catalytic reduction and diesel oxidation catalyst technologies to achieve FT4 compliance.
The engine output is at a respectable 110 horsepower at 2000 RPM and torque is maxed at 468-newton meters at 1600 RPM. Transmissions can be selected from Massey Ferguson's Dyna-4 and Dyna-6 which are both powershift and power shuttle transmissions.
Features
110 maximum engine horsepower

18,700 maximum gross weight

4.4 AGCO four-cylinder

Dyna-4 and Dyna-6 transmission

47 gallons fuel tank

Three-pump open-center hydraulics system
Pros
Gears and ranges can be shifted electronically without using a clutch

360 degrees view from the steering wheel

Fully integrated auto-guidance system

You can choose the number of wheel turns from lock to lock

Doesn't have a diesel particulate filter to save on costs
Cons
Expensive if you include optional accessories

Dyna-6 transmission solenoid fails occasionally
Massey Ferguson GC1725MB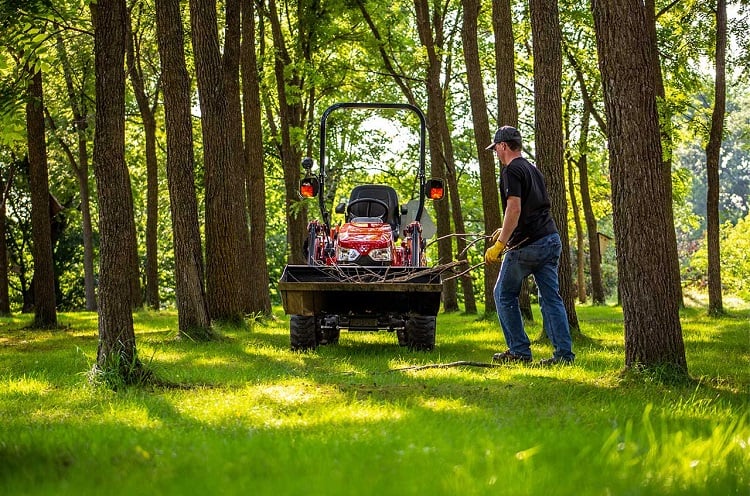 Tractors from the GC1700 series are among the most coveted for any farmer in the market for a small sub-compact tractor. These tractors are ideal for applications such as snow blowing, mowing, loading, and other vital jobs around a property. It's fitted with a standard 540 RPM rear PTO and an optional mid-PTO that maxes out at 2000 RPM.
The rear PTO can be utilized with a wide variety of 3-point mounted farm implements while the mid-PTO can be fitted with front snow blowers and a host of mower options.
The GC1725MB features a 1.1-liter Iseki three-cylinder diesel engine and is one of the most efficient tractor engines. At a rated engine output of 24 horsepower, it falls below the horsepower scope that necessitates emissions test.
Therefore, the GC1725MB doesn't require any emissions control systems to keep it compliant. User comfort is not a forgotten feature, as the tractor is designed to provide the user with ergonomic rocker pedals and a control layout.
Features
1.1-liter Iseki three-cylinder diesel engine

2-range hydrostatic transmission

Side-by-side forward and reverse rocker pedals

6.3 GPM hydraulic flow rate

540 RPM rear PTO and an optional 2000 RPM mid-PTO

Category I 3-point hitch
Pros
Rear and mid PTOs can be operated simultaneously

Provides a lot of space for the user despite its small size

Ergonomic arrangement of important controls

Doesn't require any emissions control types of equipment
Cons
It's limited to small jobs around the property

Has a small fuel tank that may require frequent filling
Massey Ferguson 7720S

The 7720S is from the 7700 series of Massey Ferguson high horsepower row crop tractors. This is a machine designed to carry out the most demanding duties of a large farm. It can handle just about any job thrown at it and it will do it with maximum efficiency.
It remains finely balanced with lots of power even when pulling a heavy tonnage trailer behind it and you shouldn't worry about stopping either because the brakes are very good.
Powering the tractor is a massive 6.6-liter common rail diesel engine with 6 cylinders that has been enhanced with a turbocharger to put out 200 horsepower. Also, an advanced engine power management system can deliver an additional 25 horsepower when required. If you choose the CVT transmission, you'll be rewarded with very smooth linear power delivery to maximize efficiency when the tractor is under load.
Features
6.6-liter, 6-cylinder common rail diesel engine with a turbocharger

Dyna-6 (24×24) or Dyna-VT (CVT) transmissions

Tier 4 final emissions compliant

430-liter fuel tank with 40 liter AdBlue tank capacity

155 PTO horsepower
Pros
Long service intervals of 250 hours for the engine

2-year or 2000 hours warranty to use the tractor without worries

A massive fuel tank keeps you working on the farm for longer

A lot of value for money if you consider the power output of the tractor

Functional design of the cab
Cons
Dyna-VT gearbox squeals and smells of oil after many hours of operation

The cooling system is fixed in place and doesn't open like in other tractors
Massey Ferguson 6713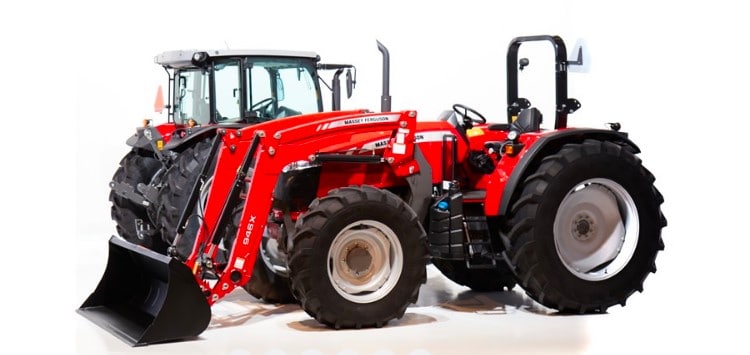 Massey Ferguson has a wide selection of mid-range tractors and this 6713 model is certainly one of the heavyweights of the category. It will undertake most of the farmwork duties thanks to the range of loader options that maximize production for both livestock and mixed farmers.
All the compatible loaders come from Massey Ferguson's investment in research and development to create attachments that pair perfectly to the 6713.
Under the bonnet is an AGCO Power 4.4-liter four-cylinder diesel engine that generates 130 horsepower. The engine is turbocharged and inter-cooled to boost the engine's power delivery managed by the SisuTronic EEM4 engine management system.
It uses high-pressure common rail direct injection to meet emission requirements without needing a diesel particulate filter.
Rear lift capacity is one of the strongest features of the 6713 as it can lift to 5.2 tons. For a farmer who desires a capable mid-range tractor, this one should be on the list.
Features
4.4-liter four-cylinder, common rail diesel engine with turbocharger

Electro-Hydraulic switches for engaging diff lock and four-wheel drive

460/85R34 Trelleborg premium radial tires

Category II 3-point hitch

12×12 power shuttle transmission

Front axle with differential lock 
Pros
Low overall cost of ownership

Diff lock and four-wheel drive automatically engage when braking

You can mount several attachments on the back

Three steps to make climbing into the cab easy

Doesn't need a diesel particulate filter
Cons
Hydraulics are known to present problems after some time

Power-shuttle may become erratic if not correctly maintained.
Massey Ferguson 4710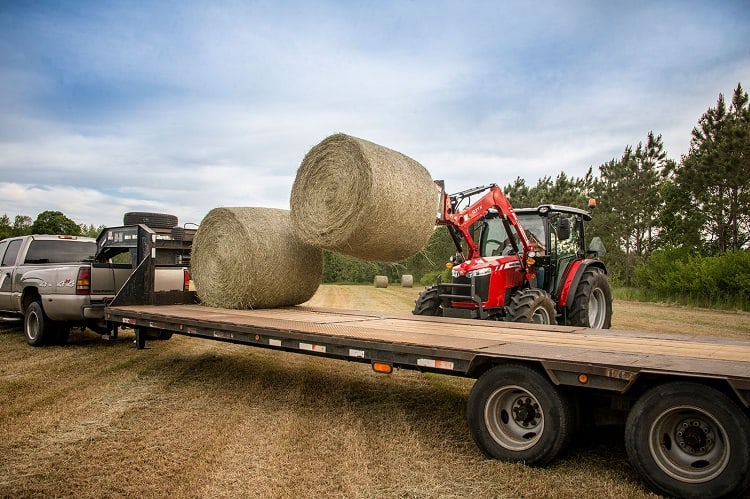 Farm machinery needs to be durable and reliable to withstand any job abuse they may face during operation. Massey Ferguson has certainly made sure of that with the 4710 model from their impressive list of utility tractors.
Few tractor categories from the manufacturer have undergone as much rigorous testing as the 4700 series. It was built from the ground up with over 50,000 hours of endurance testing applied in demanding situations to assure reliability.
The engine is an AGCO Power 3.3-liter three-cylinder engine that uses a high-pressure common rail injection system. Engine power tops out at 100 horsepower with another 88 horsepower for the PTO. Two loaders are accessible with the 4710.
You have the option of choosing the non-self-leveling 931X model or the mechanical self-leveling 936X. As an all-rounder, it's best suited for a dairy farm, loader, hay, and rotary cutting duties.
Features
3.3-liter three-cylinder common rail diesel engine

931X or 936X loaders

Independent rear PTO

Category II three-point hitch

4850 pounds rear lift capacity

340/85R24 and 420/85R34 Trelleborg radial tires 

2 range 12F x 12R Power-Shuttle
Pros
Versatility to perform a variety of tasks

Proven reliability under extreme situations

You save on upfront cost and maintenance of the diesel particulate filter 

The cockpit is easily accessible from either side of the tractor

Protective guard under the fuel tank

Cast steel fixed front axles for durability in prolonged use
Cons
The engine is sensitive to poor fuel quality

The cabin air filter doesn't work well in extreme dust
What Are The Benefits Of Using A Tractor?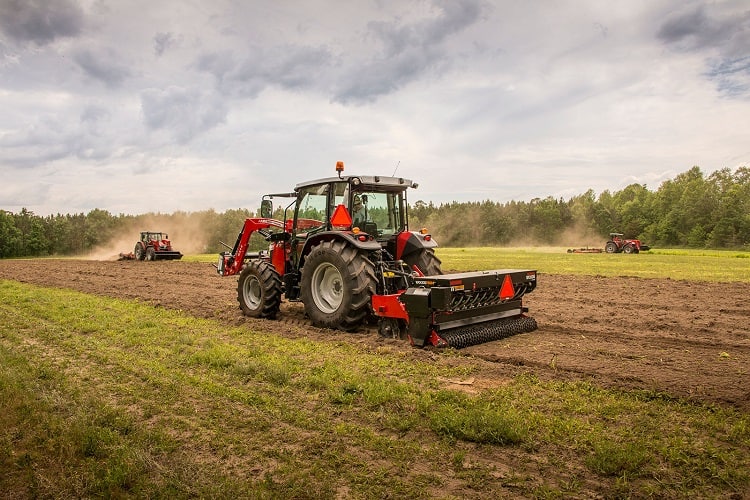 Before tractors were introduced, most farmers had to rely on their hands to plow the farm, or use ox-driven equipment to do the job. It took a lot of time and effort to plant a moderately sized farm.
By the time the harvests were done, a farmer had expended a lot of energy to do the whole job. When tractors arrived and the technology took a leap, suddenly farmers realized they could do more with the machines. Not only could they plant more but also farm work became easier.
We will now look at some of the important reasons we think you should have a tractor.
Work on large farms
Preparing a massive farm can be quite a tedious job if you don't have the right equipment to assist you to do the job. Without tractors, large-scale farmers would struggle to plant most of the land under their care. Planting on larger areas of land means the harvest will translate into more profit which can then be re-invested on other useful pieces of equipment.
Precise plowing and planting
Most of the farming procedures – if not all – can be performed manually, but when the inevitable fatigue eventually creeps in, mistakes tend to happen a lot. Precise planting is desirable when you want to have neat rows of plants or patterns that make it easy to weed and irrigate. A human or animal can't work like a machine, which is where tractors step in to save the situation.
Versatility
Tractors are versatile agricultural machines. Their job functions are not just limited to plowing and planting on the land, but they can be adapted to perform other important functions as well. Most of these machines don't need a lot of modification to hitch different attachments that will broaden the tractor's capabilities.
Transport
Getting planting materials to the farm or bringing back harvests is not easy if you don't have transport that will not huff and puff because of the physical effort. Ordinary cars can do the job but sometimes they cannot reach areas of a farm where the terrain is difficult.
Tractors are strong and reliable machines with huge grippy tires to move around on the farm. Equip it with a trailer and it will do all the transport duties required in a farm such as carrying fertilizers, hay, manure, and harvested produce back from the plantation.
Increased Profit
Utilizing a tractor will enable you to plant more acreage than you would if you did by hand or using animals. As a result, you will harvest more produce which translates to more money in your pockets.
The quality of harvest also improves because tractors plow well enough to break the ground in the manner recommended by experts. And you also get consistent spacing from the planting rows giving the plants enough nutrients and sunshine to flourish.
Increased Profit
One of the reasons most farms do not do so well is because there is a lot of wastage involved. Without the proper equipment, products that should have been harvested within a specified time-end stay too long on the farm leading to possible losses.
Again, tractors are more measured when inputting fertilizers to the required amount, saving you from having to spend on more bags to compensate for possible wastage.
Efficiency
Activities like planting can only take place when the weather conditions are favorable. Sometimes, the window for planting can be very short requiring you to put the seeds on the ground within a squeezed window.
Tractors can perform all of the steps from plowing to planting the seeds on the prepared soil, giving you the efficiency to work around whatever the climate throws at you.
FAQs About Massey Ferguson Tractors
Question: What size of a tractor is best for my farm?
Answer: It all depends on the size of your property and how much acreage has been put into agricultural use. For yard work such as mowing and ferrying light materials, a sub-compact tractor is best for the job.

The size of the tractor increases with the job demands, that's why if you're a large-scale farmer with plenty of hard jobs to do, you should invest in a mid-range or a high horsepower row crop tractor.
Question: What attachments will I need for my tractor?
Answer: Most of the attachments are not the same and are designed to perform different types of jobs. To know which attachment you'll need, first identify what kind of work you usually do on your property.

If you like leveling the grass, then getting a mower attachment will help you complete the job easily. Once you've identified which specific tasks are most common, selecting an appropriate attachment will be easy.
Question: How often should I service my tractor?
Answer: Maintenance is a critical procedure if you want to enjoy long life from your tractor. You should check the engine oil daily or after 10 hours of operation. Also, to ensure you have quality oil on the engine at all times, consider changing it alongside the filter after every 250 hours.

If you own a Massey Ferguson tractor, follow the guidelines the manufacturer recommends to keep your tractor in great condition.
Verdict
Massey Ferguson tractors are fantastic farm machines. The build quality is exceptional and the suspension has been set up to give the user a nice and comfortable ride as they move about on the farm. Many farmers request a tractor that can handle a variety of tasks that occur often on the farms.
That request has been answered through the Massey Ferguson 4710. It sits at the top of Massey Ferguson's models of utility tractor and provides you – the farmer – with the versatility to tackle any chore that you throw at it.
We certainly hope we have educated you on the types of Massey Ferguson tractors and the kind of tasks each one can perform. You can rely on the years of expertise they have gained in making remarkable tractors. With that said, we hope your experience with the new tractor will only lead to positive reviews.